Hannoverscher Sportverein 1896

| | |
| --- | --- |
| Founded | 1896 |
| Stadium | HDI-Arena |
| Capacity | 49,000 |
| Manager | A. Breitenreiter |
Fixtures / Results / TV Schedules / Live Stream Listings
Live

BUN

Dec 15

9:30am

Hannover 96 0 - 4 Bayern München
Fox Sports 1, fuboTV, Univision Depo…

Live

BUN

Dec 19

2:30pm

Freiburg 1 - 1 Hannover 96
FOX Soccer Match Pass, Sportsnet…

Live

BUN

Dec 22

9:30am

Hannover 96 0 - 1 Fortuna Düsseldorf
FOX Soccer Match Pass, Sportsnet…

Live

CLF

Jan 9

9:30am

Zulte-Waregem vs Hannover 96

Live

BUN

Jan 19

9:30am

FT

Hannover 96 0 - 1 Werder Bremen
Fox Soccer Plus, fuboTV, FOX Socce…
BUN

Jan 26

9:30am

Borussia Dortmund vs Hannover 96
Fox Sports 1, fuboTV, Univision…
BUN

Feb 1

2:30pm

Hannover 96 vs RB Leipzig
fuboTV, FOX Sports GO, …
BUN

Feb 9

9:30am

Hannover 96 vs Nürnberg
FOX Soccer Match Pass, Sport…
BUN

Feb 16

9:30am

Hoffenheim vs Hannover 96
FOX Soccer Match Pass, Sport…
BUN

Feb 24

9:30am

Hannover 96 vs Eintracht Frankfurt
Fox Sports 1, fuboTV, FOX Spo…

*All times are shown in your local time
Players
Goalkeepers
S. Sahin-Radlinger

L. Weinkauf

M. Esser

Defenders
J. Elez

K. Wimmer

Felipe
Goals: 2

O. Sorg

J. Korb

K. Akpoguma

T. Hübers


Sidelined: ACL Knee Ligament Injury

W. Anton

Miiko Albornoz
Goals: 1, Assists: 2

M. Ostrzolek

Midfielders
N. Müller

Y. Emghames

M. Bakalorz

T. Asano

T. Baller

U. Bech

E. Prib

L. Maina
Goals: 1

F. Muslija
Goals: 2

G. Haraguchi
Assists: 1

H. Weydandt
Goals: 3

M. Demir

N. Sarenren-Bazee
Sidelined: Calf/Shin Injury


(Until 20 January 2019)

I. Fossum

P. Schwegler
Assists: 1

Walace
Assists: 1

Attackers
N. Füllkrug
Goals: 2, Assists: 1
Sidelined: Knee Injury


(Until 01 March 2019)

B. Hadžić

I. Bebou
Goals: 3, Assists: 3

B. Wood
Goals: 3, Assists: 1

News
Sebastian Soto joins Hannover 96 first team for winter training in Spain 01/04/2019 - Soccer America
Former Real Salt Lake academy star Sebastian Soto has joined Hannover 96's first team for winter training less than six months after moving to Germany.
Soccer America
(2 weeks ago)
Sounders FC reacts to passing of former Head Coach Sigi Schmid - SoundersFC.com
SEATTLE, WASH. - The family of Sigi Schmid announced today that the former Sounders FC Head Coach pas
SoundersFC.com
(3 weeks ago)
Houston Dynamo re-sign DaMarcus Beasley for 2019 season - Pro Soccer USA
The Houston Dynamo has re-signed DaMarcus Beasley to play in the 2019 season; the veteran defender has been part of the team since 2014.
Pro Soccer USA
(2 weeks ago)
Poised Tyler Adams wows Leipzig media after first practice 01/07/2019 - Soccer America
Tyler Adams, the latest American to step into a first team in Germany, made quite an impression in his first press conference in Germany.
Soccer America
(1 week ago)
Videos

Hannover 96 vs. Fortuna Dusseldorf | 2018-19 Bundesliga…
Saturday, 14 Dec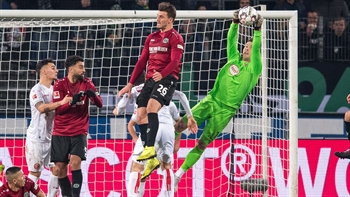 Hannover 96 vs. Fortuna Dusseldorf | 2018 Bundesliga Hi…
Saturday, 14 Dec
Tweets by LiveSoccerTV
Newsletter Signup »
Upcoming Top Matches »
Bayern München

Jan 27




9:30am

Stuttgart
Girona

Jan 27




10:15am

Barcelona
Espanyol

Jan 27




2:45pm

Real Madrid
Arsenal

Jan 29




2:45pm

Cardiff City
Manchester United

Jan 29




3:00pm

Burnley