Sporting Kansas City
Calendrier / Résultats / programmes TV / Streams en direct
En direct

MLS

oct. 1

19:30

New England 3 - 1 Sporting KC
MLS Direct Kick, MLS Live, CSN Ne…

En direct

MLS

oct. 16

17:00

Real Salt Lake 0 - 0 Sporting KC
DIRECTV, MLS Direct Kick, MLS Li…

En direct

CCL

oct. 19

20:00

Sporting Kc 3 - 1 Central
FOX Play Latin America, Facebook, …

En direct

MLS

oct. 23

16:00

Sporting KC 2 - 0 SJ Earthquakes

*MLS Decision Day

DIRECTV, MLS Live, CSN Californi…

En direct

MLS

oct. 27

22:00

Seattle Sounders 1 - 0 Sporting KC

*Knockout Round

Fox Sports 1 USA, Fox Soccer 2G…
MLS

mars 4

19:00

DC United - Sporting KC
MLS Live, LeTV
MLS

mars 11

20:00

Sporting KC - Dallas
MLS Live, LeTV
MLS

mars 18

20:30

Sporting KC - SJ Earthquakes
MLS Live, LeTV
MLS

mars 31

20:30

Toronto - Sporting KC
MLS Live, LeTV
MLS

avril 9

20:00

Sporting KC - Colorado Rapids
MLS Live, LeTV

*Toutes les heures sont indiquées selon votre heure locale
Actualités
Sporting KC signs Gerso Fernandes to designated player contract - Kansas City Star
Kansas City Star
Fernandes, a native of Guinea-Bissau in West Africa, is on the smaller side — he's 5-8, 140 — but his speed could potentially add a dimension to the Sporting KC attack that was lacking last season. A left-foot dominant player, he can play on both ...
Source: Sporting KC agrees to deals with wingers Latif Blessing and ... - Kansas City Star
Kansas City Star
Sporting Kansas City is renovating — or at least supplementing — the front line of its offense in 2017. Sporting KC has agreed to deals in principle with wingers Latif Blessing and Gerso Fernandes, a source told The Star. The agreements will bring ...
MLS Side Sporting KC Sign Latif Blessing - Peace FM Online
Peace FM Online
The forward has joined the MLS side following a wonderful season in the Ghanaian top-flight. Major League Soccer side Sporting Kansas City have signed Ghanaian midfielder Latif 'Atta' Blessing in a two-year deal until 2019, with an option to extend for ...et plus encore »
Cost of Chiefs, Royals stadiums means Kansas City area will face ... - Kansas City Star (blog)
Kansas City Star (blog)
It's been quite a time for fans of the area's professional sports franchises. The Royals' trips to the World Series in 2014 and 2015 still bring smiles. Sporting Kansas City won the MLS Cup in 2013. Now the Chiefs are back in the playoffs, with a shot ...et plus encore »
Sporting KC's Rumored 4th Division Team is Dead - The Blue Testament
The Blue Testament
What is the fourth division of US Soccer and why would Sporting KC want to stick a team there? ... At the time of the original announcement, Sporting KC didn't even have a USL team (though SPR rectified that with an amazing debut season). ... (58.7 ...et plus encore »
Top KC sports stories of 2016: Chiefs celebrated; Royals celebrated ... - Kansas City Star
Kansas City Star
It was a wild year for Sporting KC's Matt Besler: the KC native's wife delivered the couple's baby the same day he scored his first career goal with the U.S. men's national team ... in the same year he got benched by Sporting KC coach Peter Vermes.
Local soccer community commemorates WWI Christmas Truce ... - sportal.co.in
sportal.co.in
"The National World War I Museum and Memorial is one of the great institutions of our city and we are thrilled to partner with them once again for the Truce Tournament," said Sporting Kansas City President Jake Reid. "Teams from all over the region ...et plus encore »
Bill Hamid sidelined 6 weeks after another knee surgery - Washington Post
Washington Post
United opens camp Monday and begins the regular season about six weeks later, March 4 against Sporting Kansas City at RFK Stadium. At about ... Klenofsky, a 6-foot-6 prospect from Monmouth, was acquired in the second round of the MLS draft last Friday.et plus encore »
Vidéos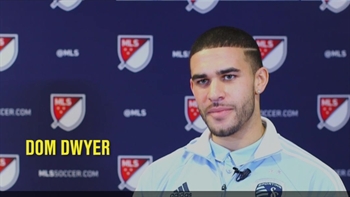 Will Sporting KC striker Dom Dwyer play for the U.S. na…
Mardi, 3 janv.
Abonnement à la newsletter »
Top prochains matches »