Copa Libertadores
Fixtures / Results / TV Schedules / Live Streams
Tuesday, 24 May 2016

Live

8:45pm

Pumas UNAM 2 - 1

P

Independiente del Valle

*Quarter Final 4 ( 2nd Leg )

Fox Soccer 2Go USA, Fox Deportes, Spo…
Wednesday, 6 July 2016

Live

8:45pm

São Paulo 0 - 2 Atlético Nacional
Fox Sports 2 USA, Fox Soccer 2Go USA, …
Thursday, 7 July 2016

Live

8:45pm

Independiente del Valle 2 - 1 Boca Juniors
Fox Sports 2 USA, Fox Soccer 2Go USA, …
Wednesday, 13 July 2016

Live

8:45pm

Atlético Nacional 2 - 1 São Paulo
Fox Sports 2 USA, Fox Soccer 2Go USA, …
Thursday, 14 July 2016

Live

8:45pm

Boca Juniors 2 - 3 Independiente del Valle
Fox Sports 2 USA, Fox Soccer 2Go USA, …
Wednesday, 20 July 2016

Live

8:45pm

Independiente del Valle 1 - 1 Atlético Nacional
Fox Sports 2 USA, Fox Soccer 2Go USA, …
Wednesday, 27 July 2016

Live

8:45pm

Atlético Nacional vs Independiente del Valle
Fox Sports 2 USA, Fox Soccer 2Go…

*All times are shown in your local time
Top Scorers
Channels licensed to broadcast Copa Libertadores in United States

Fox Sports 1 USA
2014-2016
English language multi-platform rights.
Videos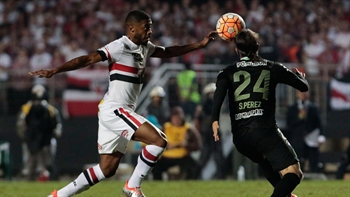 Sao Paulo vs. Atletico Nacional | 2016 Copa Libertadore…
Thursday, 7 Jul
About Copa Libertadores
The Copa Libertadores de America is the prestigious South American Club competition tournament with the top clubs of South America. 38 Teams compete for the glory to lift the Copa Libertadores. The champions go on to play in the 2010 Recopa Sudamericana. The winner also proceeds to play in the FIFA Club World Cup tournament. 38 Clubs initially compete in the competition. These teams are selected based on their standings in their respective leagues. Some countries have different berth criteria. Argentina has 5 berths, Bolivia 3, Brazil 5, Chile 3, Colombia 3, Ecuador 3+1, Paraguay 3, Peru 3, Uruguay 3, Venezuela 3. This year Mexico has been invited to participate in the Copa Libertadores and have been awarded 3 berths. 32 teams progress to the second stage of the tournament with 8 groups of 4 clubs. The top 2 clubs from each group advance into the final 16 round. 8 teams advance to the Quarterfinals playing 2-legged matches. The semi-finals are also played with a 2-legged match and the same applies to the Final, giving both teams advantage of playing at home in front of their fans.
The Copa Libertadores draws the tournament fixtures normally November. The first stage of the Tournament begins in January and runs until early July where a 2 legged final take place.
Newsletter Signup »
Upcoming Top Matches »