DC United
Fixtures / Results / TV Schedules / Live Streams
Live

MLS

May 27

9:30pm

Sporting KC 0 - 1 DC United
fuboTV, Univision Deportes, UniMás, …

Live

MLS

Jun 1

8:00pm

DC United 0 - 2 Seattle Sounders
MLS Direct Kick, MLS Live, KCPQ…

Live

CUP

Jun 15

7:30pm

DC United 0 - 0

P

Fort Lauderdale Strikers
Youtube

Live

MLS

Jun 18

9:44pm

Houston Dynamo 0 - 0 DC United
Directv, MLS Direct Kick, MLS Live, …

Live

MLS

Jun 25

7:00pm

DC United 2 - 0 New England
Directv, MLS Direct Kick, MLS Live, …

Live

MLS

Jul 1

10:30pm

Real Salt Lake vs DC United
Univision Deportes, UniM…

Live

MLS

Jul 9

7:00pm

Philadelphia Union vs DC United
MLS Live, Sky Sports 3/HD, S…

Live

MLS

Jul 16

7:30pm

Columbus Crew SC vs DC United
MLS Live, Sky Sports 2/HD, S…

Live

MLS

Jul 23

7:30pm

Toronto FC vs DC United
MLS Live, LeTV

Live

MLS

Jul 31

6:30pm

DC United vs Montreal Impact
MLS Live, TSN 690 Montreal, …

*All times are shown in your local time
News
DC United's Jalen Robinson shines as MLS debut finally arrives - Soccerwire.com
Soccerwire.com
Jalen Robinson left Wake Forest two years early to sign a Homegrown Player contract with D.C. United some 30 months ago, then dropped off the radar as he toiled on the training ground and on multiple loan stints in the third-tier United Soccer League.
DC United finally gets home but won't bring all its defense vs. Revolution - Washington Post
Washington Post
Welcome home, D.C. United. For the first time since June 1, United on Saturday is slated to play an MLS match at RFK Stadium when it takes on the New England Revolution. But it better not get too comfortable: United won't play another home match until ...
DC United reserves will get shots in US Open Cup vs. Fort Lauderdale - Washington Post
Washington Post
D.C. United vs. Fort Lauderdale Strikers. What: U.S. Open Cup fourth round. The tournament involves teams from all levels of American soccer. Where: Maryland SoccerPlex in Boyds. When: Wednesday, 7:30 p.m. EST. Tickets: $20 ($10 season ticket ...
MLS suspends DC United's Bobby Boswell for 'serious foul play' - Washington Post
Washington Post
MLS's disciplinary committee has suspended D.C. United captain Bobby Boswell for one match for a "serious foul play that endangered the safety of an opponent" during last weekend's game in Houston. Boswell, who was also fined an undisclosed amount, ...
DC United wins at home, Washington Spirit loses at home - Washington Post
Washington Post
Dillon Mullan's match report from RFK Stadium, where D.C. United defeated the New England Revolution, 2-0. United's record: 5-6-5, 20 points. Lineup: Hamid; Franklin, Robinson, Opare, Kemp; DeLeon, Sarvas, Acosta (Jeffrey 73rd); Neagle (Vincent 84th), ...
DC United signs 16-year-old Chris Durkin - Washington Post
Washington Post
[UPDATES with official signing]. D.C. United has signed Chris Durkin, a 16-year-old midfielder-defender who captains the U.S. under-17 national team, to a homegrown contract. Durkin underwent a medical exam and signed the multiyear deal Tuesday.and more »
Lamar Neagle aims to keep DC United's momentum churning against former team - Washington Post
Washington Post
United Coach Ben Olsen has helped revitalize Neagle's career in D.C. The versatile midfielder has started all 13 games so far this season, tallying two goals and three assists while showcasing the speed that makes him a consistent threat on the flanks ...
DC United fall to Fort Lauderdale Strikers on penalties in US Open Cup - MLSsoccer.com
MLSsoccer.com
D.C. were bested by the NASL's Ft. Lauderdale Strikers, undone in penalty kicks after 90 minutes of scoreless regulation and a breathless half hour of extra time. For the second time in three years, United's Cup run ended the same day it began.
Videos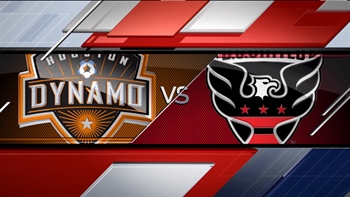 Houston Dynamo vs. DC United | 2016 MLS Highlights
Monday, 6 Jun

2016 Lamar Hunt U.S. Open Cup - Fourth Round: DC United…
Wednesday, 8 Jun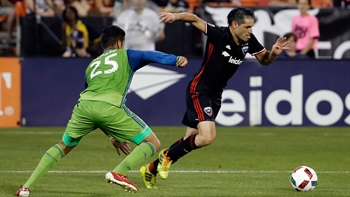 DC United vs. Seattle Sounders | 2016 MLS Highlights
Thursday, 9 Jun
Newsletter Signup »
Upcoming Top Matches »