SSC Napoli
Fixtures / Results / TV Schedules / Live Streams
Live

COP

Jan 19

2:45pm

Napoli 0 - 2 Internazionale

*Quarter-Final

DIRECTV Sports Caribbean, L…

Live

SEA

Jan 24

9:00am

Sampdoria 2 - 4 Napoli
beIN Sports USA, beIN SPORT…

Live

SEA

Jan 31

9:00am

Napoli 5 - 1 Empoli
RAI Internazionale, beIN Sports…

Live

SEA

Feb 3

2:45pm

Lazio 0 - 2 Napoli
RAI Internazionale, beIN Sports…

Live

SEA

Feb 7

9:00am

Napoli 1 - 0 Carpi
RAI Internazionale, beIN Sports…

Live

SEA

Feb 13

2:45pm

Juventus vs Napoli
RAI Internazionale, beIN Sp…

Live

UEL

Feb 18

1:00pm

Villarreal vs Napoli
Fox Soccer 2Go USA, E…

Live

SEA

Feb 22

3:00pm

Napoli vs Milan
beIN Sports USA, fuboTV, …

Live

UEL

Feb 25

3:05pm

Napoli vs Villarreal
Fox Soccer 2Go USA, BT Spor…

Live

SEA

Feb 29

3:00pm

Fiorentina vs Napoli
SKY Go Italia, BT Sport Europe, B…

*All times are shown in your local time
News
With Napoli at Juventus, it's judgment weekend in Serie A
USA TODAY
ROME (AP) — It's judgment weekend in Serie A. League leader Napoli takes a two-point lead over Juventus into a clash of the top two squads on Saturday. Then on Sunday, third-place Fiorentina hosts fourth-place Inter Milan, which is one point behind ...
Soccer: PSG, Madrid, Bayern Munich and Napoli all win in Europe
Waterbury Republican American
PARIS — Europe's finest strikers were on target on Sunday as Paris Saint-Germain, Real Madrid, Bayern Munich and Napoli secured wins. Zlatan Ibrahimovic scored twice as leader Paris Saint-Germain equaled the longest unbeaten run in the French league ...
Soccer-Racist chanting halts Lazio vs. Napoli game
Reuters UK
The Italian Serie A match between Lazio and Napoli on Wednesday was suspended for around three minutes after home fans aimed racist abuse at visiting centre back Kalidou Koulibaly. The game was halted in the 68th minute following repeatedbooing from ...
Inter salvage 3-3 draw in Verona thriller
Channel News Asia
Napoli's Gonzalo Higuain (R) and Carpi's Simone Romagnoli in action. REUTERS/Stringer. Football Soccer - Napoli v Carpi Serie A - San Paolo Stadium, Naples, Italy - 07/02/16. Napoli's Gonzalo Higuain (C) is challenged by Carpi's Simone Romagnoli and ...
PSG, Madrid, Bayern Munich and Napoli all win in Europe
Washington Times
Napoli's Gonzalo Higuain, second from left, celebrates with his teammates after scoring his second goal during a Serie A soccer match between Napoli and Inter Milan, at the San Paolo stadium in Naples, Italy, Monday, Nov. 30, 2015. (AP Photo/Salvatore ...
Watch Napoli Vs. Inter Milan Coppa Italia Game Online (Live Stream)
NESN.com
Napoli and Inter Milan are competing for the highest honors that Italian soccer has to offer. They'll clash Tuesday for the second time this season. Napoli hosts Inter Milan in the quarterfinals of the Coppa Italia (or Italian Cup). Napoli currently ...
Soccer-Napoli score four and stay top, Inter held at home by Carpi
Yahoo Sports
MILAN, Jan 24 (Reuters) - Inter Milan's Serie A title hopes suffered a new setback as they conceded a stoppage-time equaliser and were held 1-1 at home by relegation threatened Carpi on Sunday while leaders Napoli swept to a 4-2 win at Sampdoria.
Videos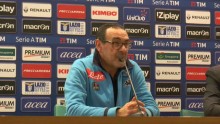 Racism on the agenda after Lazio-Napoli clash suspended
Thursday, 4 Feb