AS Roma
Fixtures / Results / TV Schedules / Live Streams
Live

SEA

Jan 17

9:00am

Roma 1 - 1 Hellas Verona
beIN SPORTS CONNECT, ESP…

Live

SEA

Jan 24

2:45pm

Juventus 1 - 0 Roma
beIN Sports USA, fuboTV, beI…

Live

SEA

Jan 30

2:45pm

Roma 3 - 1 Frosinone
RAI Internazionale, beIN Sports…

Live

SEA

Feb 2

2:45pm

Sassuolo 0 - 2 Roma
RAI Internazionale, beIN Sports…

Live

SEA

Feb 7

2:45pm

Roma 2 - 1 Sampdoria
RAI Internazionale, beIN SPO…

Live

SEA

Feb 12

2:45pm

Carpi vs Roma
RAI Internazionale, beIN Sp…

Live

UCL

Feb 17

2:45pm

Roma vs Real Madrid

*Round of 16

Fox Soccer 2Go USA, Fox Sp…

Live

SEA

Feb 21

2:45pm

Roma vs Palermo
beIN Sports USA, fuboTV, …

Live

SEA

Feb 27

12:00pm

Empoli vs Roma
SKY Go Italia, BT Sport Europe, B…

Live

SEA

Mar 4

2:45pm

Roma vs Fiorentina
SKY Go Italia

*All times are shown in your local time
News
AS Roma Is Setting The Bar Very High For How Teams Should Engage Their Global Audience
SportTechie
The relationship between soccer and social media is a tight one. Teams are racing to figure out how to be unique with their engagement and how to best reach out to their large group of worldwide fans. Now, Italian soccer powerhouse AS Roma has ...
Soccer-Debutant El Shaarawy scores with backheel in Roma win
Yahoo Sports
MILAN, Jan 30 (Reuters) - Debutant Stephan El Shaarawy scored with a crafty backheeled volley to give AS Roma a 3-1 win over Frosinone in Serie A on Saturday, their first under coach Luciano Spalletti. Ervin Zukanovic, another new signing, also played ...
Transfer Watch: AS Roma announce termination of Ashley Cole's contract, clearing path for rumored move to LA Galaxy
MLSsoccer.com
Reported LA Galaxy target Ashley Cole had his contract officially terminated by Italian club AS Roma on Tuesday, paving the way for the English left back to move to MLS. Cole, 35, hasn't played this season for Roma. He moved to the Italian club in the ...
Roma sack Rudi Garcia
World Soccer
The news comes as no huge surprise after Roma dropped from top of the table and credible title contenders in Autumn, to fifth spot in the standings following last week's home draw with Milan. The team was booed off the pitch after that performance and ...
Former England defender Ashley Cole joins LA Galaxy
Ottawa Sun
AS Roma's new player Ashley Cole attends a news conference for his presentation at the team's training centre in Rome July 15, 2014. Former England defender Ashley Cole signed a two-year deal with AS Roma after leaving Chelsea at the end of last ...
Videos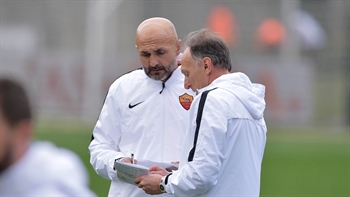 Spalletti back as Roma head coach
Thursday, 7 Jan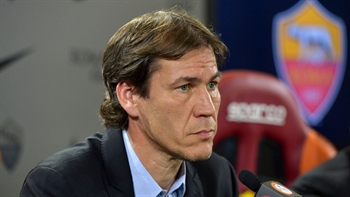 Roma sack French manager Rudi Garcia
Wednesday, 6 Jan