Sporting Kansas City
Fixtures / Results / TV Schedules / Live Streams
Live

MLS

Jun 2

10:30pm

LA Galaxy 0 - 0 Sporting KC
MLS Direct Kick, MLS Live, TWCSN, …

Live

CUP

Jun 15

8:00pm

Minnesota United 1 - 2 Sporting KC
Youtube

Live

MLS

Jun 19

5:00pm

Sporting KC 2 - 0 Dallas
Available on-demand until

07 19

Live

MLS

Jun 25

7:30pm

Montreal Impact 2 - 2 Sporting KC
Directv, MLS Direct Kick, MLS Live, …

Live

CUP

Jun 29

7:00pm

Houston Dynamo 3 - 1 Sporting KC
Youtube

Live

MLS

Jul 3

7:00pm

Sporting KC vs Columbus Crew SC
Fox Sports 1 USA, Fox…

Live

MLS

Jul 10

8:00pm

Sporting KC vs New York City
Fox Sports 1 USA, Fox…

Live

MLS

Jul 13

8:30pm

Chicago Fire vs Sporting KC
MLS Live, LeTV

Live

MLS

Jul 16

9:00pm

Colorado Rapids vs Sporting KC
MLS Live, LeTV

Live

MLS

Jul 24

3:00pm

Sporting KC vs Seattle Sounders
MLS Live, Sky Sports 3/HD, S…

*All times are shown in your local time
News
Sporting KC Weekly Schedule: June 27 - July 3 - Sporting Kansas City
Sporting Kansas City
Sporting Legends is a hall of honor that pays tribute to club icons and provides a platform for those inducted to reconnect with the Kansas City soccer community. A new episode of the Sporting Kansas City show will air Tuesday at 7 p.m. CT on Sports ...and more »
Workhorse of the Week vs. Sporting Kansas City & Real Salt Lake - Big D Soccer (blog)
Big D Soccer (blog)
Following a long difficult penalty win against the OKC Energy, FC Dallas got absolutely robbed by the refs in a loss at Sporting Kansas City. This is one where many of us would still like some better answers for a game that should have at least given ...
FC Dallas has winning streak snapped by Sporting Kansas City, Benny Feilhaber - Dallas Morning News
Dallas Morning News
Lawrence Olum side-netted a header, off a free kick from the top corner of the box by Feilhaber, to put Sporting KC (6-6-5) ahead in the 43rd minute. Moments later, Feilhaber drew a penalty against Atiba Harris and, after a double-clutching, converted ...
Why Sporting Kansas City Is Fan Magic – Like Hogwarts for Sports - Nerdist
Nerdist
Children's Mercy Park is something like Kansas City's Hogwarts, because it's home to Kansas City's Major League Soccer club Sporting Kansas City. Surrounded by the likes of Nebraska Furniture Mart, Bob Evans and a shopping district known as The ...and more »
Defending US Open Cup champs Sporting Kansas City dejected by loss - MLSsoccer.com
MLSsoccer.com
HOUSTON -- Typically, when a team has more possession of the ball and more passes strung together, they take home a win. So Wednesday's 3-1 US Open Cup loss to the Houston Dynamo left Sporting Kansas City scratching their heads. Sporting KC ...and more »
Dom Dwyer scores twice, Sporting KC ties Impact 2-2 - San Francisco Chronicle
San Francisco Chronicle
Montreal Impact's Lucas Ontivero, right, challenges Sporting Kansas City's Roger Espinoza during first half MLS soccer action in Montreal, Canada, Saturday, June 25, 2016. (Graham Hughes/The Canadian Press via ... more. Photo: Graham Hughes, AP.
Sporting KC Weekly Update: June 22, 2016 - Sporting Kansas City
Sporting Kansas City
Sporting Legends is a hall of honor that pays tribute to club icons and provides a platform for those inducted to reconnect with the Kansas City soccer community. An initiative that began in 2013, seven individuals have been named Sporting Legends for ...
Winners announced for 2016 Kevin Gray Awards - Sporting Kansas City
Sporting Kansas City
The three finalists are all currently on the U-18 Sporting Kansas City Academy team. Ryan Kellogg was chosen as the winner for his soccer accomplishments throughout his high school and academy careers. In his acceptance interview, Kellogg recognized ...
Videos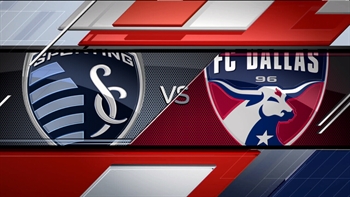 Sporting KC vs. FC Dallas | 2016 MLS Highlights
Monday, 6 Jun

A.J. DeLaGarza on Sporting KC draw | After The Whistle
Friday, 10 Jun

TEASER: LA Galaxy vs. Sporting KC | June 2, 2016
Wednesday, 8 Jun
Newsletter Signup »
Upcoming Top Matches »