Paris Saint-Germain FC
Fixtures / Results / TV Schedules / Live Streams
| | | | | | |
| --- | --- | --- | --- | --- | --- |
| Repeat | ICC | Aug 2 | 1:00pm | Manchester United vs PSG | Fox Soccer Plus |
| Repeat | LG1 | Aug 2 | 2:30pm | PSG vs Olympique Lyonnais | Fubo TV |
| Repeat | SUC | Aug 2 | 4:00pm | PSG vs Olympique Lyonnais | beIN Sports USA, Fubo TV, … |
| Repeat | SUC | Aug 2 | 6:30pm | PSG vs Olympique Lyonnais | beIN Sports en Español, … |
| Repeat | ICC | Aug 3 | 6:00am | Manchester United vs PSG | Fox Soccer Plus |
| Repeat | LG1 | Aug 3 | 10:00am | PSG vs Olympique Lyonnais | beIN Sports USA, Fubo TV, … |
| Repeat | SUC | Aug 3 | 2:00pm | PSG vs Olympique Lyonnais | beIN Sports en Español, … |
| Repeat | LG1 | Aug 3 | 6:00pm | Metz vs PSG | beIN Sports USA, Fubo TV, … |
| Repeat | LG1 | Aug 3 | 6:30pm | PSG vs Toulouse | beIN Sports USA, Fubo TV, … |
| Repeat | SUC | Aug 3 | 7:00pm | Olympique Lyonnais vs PSG | Fubo TV, beIN Sports Canada |

*All times are shown in your local time
News
PSG continues dominance of French soccer with 2-0 win over Lyon in Montreal
Montreal Gazette
Paris Saint-Germain's Brazilian defender Thiago Silva (C) holds the trophy as he celebrates with teammates after their victory in the French Trophy of Champions football match against Lyon at Saputo stadium in Montreal, Canada on August 1, 2015. FRANCK ...
Soccer-PSG beat Manchester United in Chicago
Yahoo Eurosport UK
The game between the two sides was shrouded in a bubbling controversy with Manchester United without Argentine winger Angel Di Maria, who is reportedly seeking a move away from the English Premier League side with PSG a likely destination.
Charlotte not kicking soccer habit any time soon (PHOTOS)
Charlotte Business Journal (blog)
Chances look good for the International Champions Cup to make a third appearance in Charlotte in 2016. An executive from promoter Relevent Sports attending the match between Chelsea and Paris-Saint Germain on Saturday night at Bank of America ...
PSG hosts underprivileged kids before soccer match
WSOC Charlotte
Together with Mecklenburg County's Park and Recreation Department, the children took part in a training session with the coaches of the Paris Saint-Germain Academy. The children also met the soccer club's stars, including Zlatan Ibrahimović and David ...
This guy hopes grass is greener for Chelsea, PSG in Charlotte
Charlotte Business Journal (blog)
As for the field, Vaughan told me Friday how soccer and NFL football differ — beyond the basics of different field markings and goals with nets instead of end-zone uprights. For a football game, American football, that is, the preference is to have a ...
Videos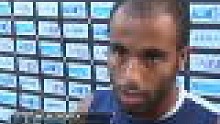 Di Maria transfer excites PSG players
2 days ago

Besiktas Istanbul verpflichtet Andreas Beck! Kevin Trap…
Saturday, 11 Jul