Panama National Football Team
Fixtures / Results / TV Schedules / Live Streams
| | | | | | |
| --- | --- | --- | --- | --- | --- |
| Repeat | FRI | May 30 | 6:00am | Brazil vs Panama | beIN SPORTS en Español, … |
| Repeat | FRI | May 30 | 12:00pm | Brazil vs Panama | beIN SPORTS USA, fubo… |
| Repeat | FRI | May 30 | 11:30pm | Panama vs Brazil | beIN SPORTS USA, fubo… |
| Repeat | FRI | May 31 | 1:00am | Brazil vs Panama | beIN SPORTS en Español, … |
| Repeat | FRI | May 31 | 10:00pm | Panama vs Brazil | beIN SPORTS en Español, … |
| Repeat | FRI | Jun 1 | 10:00am | Brazil vs Panama | beIN SPORTS USA, … |
| Repeat | FRI | Jun 1 | 12:00pm | Brazil vs Panama | beIN SPORTS en Español, … |
| Repeat | FRI | Jun 1 | 7:30pm | Brazil vs Panama | beIN SPORTS en Español, … |
| Repeat | FRI | Jun 2 | 1:00am | Brazil vs Panama | beIN SPORTS USA, … |
| Repeat | FRI | Jun 3 | 8:00am | Brazil vs Panama | beIN SPORTS en Español, … |

*All times are shown in your local time
News
Colombian, Haitian national teams ready to go in Miami - Miami Herald
Miami Herald
Local soccer fans can, however, get a sneak preview of the Colombian and Haitian teams at a 5 p.m. Sunday friendly at Marlins Park. The teams are using the match as a warmup for ... Even without Rodriguez, the Colombian roster features many well-known ...
Don't dismiss the USMNT's big win just because Bolivia are bad - FOXSports.com
FOXSports.com
By Ryan RosenblattFOX Soccer @RyanRosenblatt May 28, 2016 at 9:51p ET ... They lost to Jamaica last year and could only manage draws against the likes of Honduras and Panama on home soil since the 2014 World Cup. Basically, this is a ... That wasn't a ...
No surprises as Panama confirms Copa America squad - Goal.com
Goal.com
Panama's three most-capped players all made the cut for the nation's final 23-man Copa America Centenario squad. There were no real surprises from Panama coach Hernan "Bolillo" Dario Gomez after he finalized his 23-man squad for the Copa America ...and more »
Mexico defeats Paraguay in Georgia Dome's soccer finale - Atlanta Journal Constitution
Atlanta Journal Constitution
In between that game and Saturday's saw "El Tri" play four times, Mexico's Club America twice and the U.S. men and women's national teams once each, among a notable visitor list that also included European powerhouse clubs A.C. Milan and Manchester ...and more »
Columbus Crew SC add to wing depth with Panama teenager Cristian Martinez - MLSsoccer.com
MLSsoccer.com
He started his soccer career playing for Chorrillo's Under-9 squad and progressed through the club's youth system to make his debut appearance for its first team four years ago, at the age of 15. He joined Crew SC as a guest player for the Black & Gold ...
Panama's Copa America profile, roster, broadcasters
One of the most exciting teams to watch last summer in the CONCACAF Gold Cup was undeniably Panamá. Their great form and a playoff win will see them make their debut in the Americas' biggest tournament. They will want to leave a lasting impression.
Coached by seasoned tactician Hernán Darío Gómez, Los Canaleros will travel to the U.S. with high hopes, regardless of the tough opposition ahead. Panamá are placed in Group D, where they will fight for a spot in the Quarterfinals against the likes of Argentina, Chile and Bolivia.
Panamá's Copa América record
CONCACAF teams have been receiving invites to the tournament since 1993, but La Marea Roja was never considered a suitable candidate to play against South America's top contenders. Their best performances in an international tournament came in the 2005 and 2013 Gold Cup editions. On both occasions, they were defeated in the final match by the USMNT.
Panamá's current form
Los Canaleros have played 12 matches since the end of the 2015 Gold Cup where they placed third. Panama has won five games, lost as many times, and drawn a couple of times. La Marea Roja is currently ranked second in Group B of the CONCACAF World Cup Qualifiers, three points behind Costa Rica with two games left.
Hernán Darío Gómez's profile
Panama's Colombian coach is one of the most respected tacticians in South American football. Also known as "El Bolillo", Gómez has had his fair share of success with Colombia's National Team, and even managed to lead Ecuador to their first ever World Cup in 2002. Gómez's teams are rather defensive and capitalize on set pieces or quick counter-attacks to net goals.
The Colombian coach has been in charge of "La Marea Roja since 2014.
Copa America broadcasters in Panamá
Telemetro and RPC TV are the confirmed broadcasters for the Copa America in Panamá. Viewers can also expect some coverage on TVMax 9 and TVN2. We will update this section of the article once we have more information on the tournament's coverage on Panamanian TV.
Go to Panama's page for the team's full Copa America Centenario fixtures and global online and TV listings.
Panamá's Copa América Centenario roster
Los Canaleros will have most of their top players available for this tournament, with center back and captain Román Torres being the only exception. The strong defender has established himself as one of Seattle Sounders' most influential players, and his absence could represent a huge blow for Panamá's hopes of success.
Panama's 23-man squad is made of the following players:
Goalkeepers: Jaime Penedo (Saprissa), José Calderón (Platense, Honduras), Alex Rodríguez (San Francisco).
Defenders: Luis Henríquez (Tauro), Roderick Miller (San Francisco), Fidel Escobar (Sporting), Harold Cummings (Alajuelense), Felipe Baloy (Atlas), Érick Davis (DAC 1904 Dunajská Streda), Adolfo Machado (Saprissa).
Midfielders: Gabriel Gómez (Cartaginés), Aníbal Godoy (San José Earthquakes), Valentín Pimentel (La Equidad), Amílcar Henríquez (América de Cali), Alberto Quintero (San José Earthquakes), Armando Cooper (Árabe Unido).
Forwards: Ricardo Buitrago (Juan Aurich), Luis Tejada (Juan Aurich), Blas Pérez (Vancouver Whitecaps), Roberto Nurse (Mineros), Gabriel Torres(Zamora), Abdiel Arroyo (Árabe Unido) e Ismael Díaz (Porto B).
Chile vs Panama TV and Streaming Schedule
Canada: Univision Canada
United States: fuboTV, Fox Sports GO, Fox Sports 1 USA, Univision Deportes USA, Fox Soccer 2GO USA, UniMás

Argentina vs Panama TV and Streaming Schedule
Canada: Univision Canada
United States: fuboTV, Fox Soccer 2GO USA, FOX Network, Univision Deportes USA, UniMás

Panama vs Bolivia TV and Streaming Schedule
Canada: Univision Canada
United States: fuboTV, Fox Sports GO, Fox Sports 1 USA, Univision Deportes USA, Fox Soccer 2GO USA, UniMás

Videos

Panama: Copa America Team Profile
Sunday, 8 May

Perez's Beautiful Bike & San Jose PANAMANIACS…
Thursday, 5 May

PANAMANIACS! Blas Bicycle Kick, Godoy & Quintero ML…
Thursday, 5 May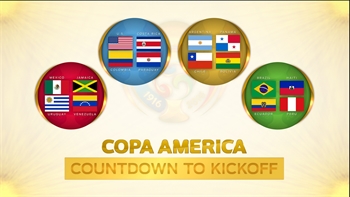 How far can Luis Tejada take Panama at Copa America
Wednesday, 11 May
Panama Football Association Info & Statistics
| | |
| --- | --- |
| History | Founded: 1937, Affiliated: 1938 |
| Uniform | Jerseys: Red, Shorts:Red, Stockings:Red |
| Website | http://www.fepafut.com |
| Continental Titles | Second: CONCACAF Gold Cup (2005 USA, 2013 USA) |