Friendly
Fixtures / Results / TV Schedules / Live Stream Listings
Sunday, 10 June 2018

Live

3:00pm

England XI vs World XI

*Soccer Aid 2018

ITV 1 UK, The ITV Hub, STV Scotland, UT…
Monday, 11 June 2018

Live

9:30am

Senegal 0 - 2 Korea Republic

Live

2:45pm

Belgium 4 - 1 Costa Rica
ESPN Deportes, ESPN3, ESPN Deportes+, W…
Tuesday, 12 June 2018

Live

9:05am

Japan 4 - 2 Paraguay
Astro Supersport, NTV, Now World Cup 1

Live

12:00pm

Poland 4 - 0 Lithuania
fuboTV, beIN SPORTS, beIN SPORTS en…
Thursday, 5 July 2018

8:45am

Malaysia vs Fiji
Thursday, 26 July 2018

7:00pm

USA vs Japan

*2018 Tournament of Nations

fuboTV, Fox Sports 1, FOX Sports GO
Sunday, 29 July 2018

7:00pm

USA vs Australia

*2018 Tournament of Nations

fuboTV, Fox Sports 1, FOX Sports GO
Thursday, 2 August 2018

8:30pm

USA vs Brazil

*2018 Tournament of Nations

fuboTV, Fox Sports 1, FOX Sports GO
Saturday, 4 August 2018

TBA

Palestine vs Iraq
Thursday, 21 June 2018

Repeat

7:30am

Peru vs Iceland
fuboTV, beIN SPORTS en Español, …

Repeat

11:00am

Nigeria vs Serbia
fuboTV, beIN SPORTS en Español, …

Repeat

2:00pm

Austria vs Brazil
fuboTV, beIN SPORTS en Español, …

Repeat

6:00pm

Peru vs Iceland
fuboTV, beIN SPORTS en Español, …

Repeat

10:00pm

Nigeria vs Serbia
fuboTV, beIN SPORTS en Español, …
Friday, 22 June 2018

Repeat

12:00am

Austria vs Brazil
fuboTV, beIN SPORTS en Español, …

Repeat

7:30am

Portugal vs Tunisia
fuboTV, beIN SPORTS en Español, …

Repeat

11:00am

Poland vs Korea Republic
fuboTV, beIN SPORTS en Español, …

Repeat

2:00pm

Sweden vs Peru
fuboTV, beIN SPORTS en Español, …

Repeat

6:00pm

Portugal vs Tunisia
fuboTV, beIN SPORTS en Español, …

*All times are shown in your local time
Friendly Official TV, radio, and online/app/mobile broadcast listings.
Channels licensed to broadcast Friendly in United States
News
Videos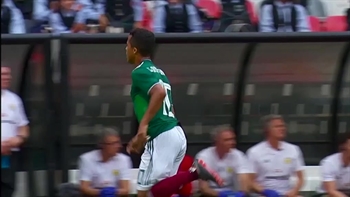 Mexico vs. Scotland | 2018 International Friendly Highl…
Saturday, 2 Jun
About Friendly
Friendly matches are played at all levels ranging from Domestic club football to international club football as well as National football. Friendly matches aren't exactly hand holding experiences it just means that these games do not qualify for any ranking improvement. Friendly football matches are normally played for various reasons ranging such as Charity football matches, physical preparation matches, promotional tours, TV rights obligations, testimonials or just for pure entertainment. Friendly matches are normally played during the off-season or during breaks in domestic league action.
Newsletter Signup »
Upcoming Top Matches »
Brazil

Jun 22




8:00am

Costa Rica
Nigeria

Jun 22




11:00am

Iceland
Serbia

Jun 22




2:00pm

Switzerland
Belgium

Jun 23




8:00am

Tunisia
Korea Republic

Jun 23




11:00am

Mexico
Germany

Jun 23




2:00pm

Sweden
England

Jun 24




8:00am

Panama
Japan

Jun 24




11:00am

Senegal
Poland

Jun 24




2:00pm

Colombia
Uruguay

Jun 25




10:00am

Russia