Friendly
Fixtures / Results / TV Schedules / Live Streams
Tuesday, 17 November 2015

Live

2:45pm

Italy 2 - 2 Romania
RAI Internazionale, ESPN3, ESPN Deporte…

Live

2:45pm

Poland 3 - 1 Czech Republic
beIN SPORTS CONNECT, Arena Sport…

Live

2:45pm

Slovakia 3 - 1 Iceland
ESPN3, ESPN Deportes+, Watch ESPN, RU…

Live

3:00pm

England 2 - 0 France
Fox Soccer 2Go USA, Fox Sports 1 USA, …
Friday, 20 November 2015

Live

5:45am

Hoang Anh Gia Lai U21 vs Myanmar U21
Bongda TV

Live

2:30pm

England U17 vs Germany U17
BT Sport 2, BT Sport Live Streaming
Wednesday, 9 December 2015

Live

TBA

Nicaragua vs Cuba
Wednesday, 16 December 2015

Live

TBA

Nicaragua vs Costa Rica
Sunday, 29 November 2015

Repeat

5:00am

Austria vs Switzerland

*Repeat from November 18, 2015

ESPN Deportes TV
Friday, 4 December 2015

Repeat

4:00am

Cuba vs Santos Laguna

*Repeat from November 13, 2015

ESPN Deportes TV
Saturday, 5 December 2015

Repeat

5:00am

Italy vs Romania

*Repeat from November 17, 2015

ESPN Deportes TV
Sunday, 6 December 2015

Repeat

7:00am

Russia vs Croatia

*Repeat from November 17, 2015

ESPN Deportes TV
Monday, 7 December 2015

Repeat

3:30pm

USA vs Trinidad and Tobago
Fox Soccer Plus
Saturday, 12 December 2015

Repeat

11:30am

USA vs Trinidad and Tobago
Fox Soccer Plus
Monday, 14 December 2015

Repeat

12:00pm

USA vs Trinidad and Tobago
Fox Soccer Plus
Thursday, 17 December 2015

Repeat

2:00am

USA vs China
Fox Soccer Plus

Repeat

9:30pm

USA vs China
Fox Soccer Plus
Friday, 18 December 2015

Repeat

8:00pm

USA vs China
Fox Soccer Plus

*All times are shown in your local time
Channels licensed to broadcast Friendly in United States
News
France And England Play Friendly Match, Two Other Soccer Games Canceled
NPR
France and England played their friendly match at London's Wembley Stadium as scheduled Tuesday night, with England winning 2-0, but other soccer matches in Europe were canceled over security concerns. NPR's Newscast reported that in Hanover, ...
France vs. Germany 2015: Early Prediction, Preview For International Friendly ...
International Business Times
Issues are mounting for two European powers as Germany and France are set to meet in an international friendly match Friday at Stade De France in Saint-Denis. France coach Didier Deschamps must find either a short or long-term replacement for superstar ...
Videos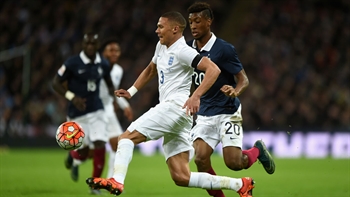 England vs. France | 2015 International Friendly
Tuesday, 17 Nov
About Friendly
Friendly matches are played at all levels ranging from Domestic club football to international club football as well as National football. Friendly matches aren't exactly hand holding experiences it just means that these games do not qualify for any ranking improvement. Friendly football matches are normally played for various reasons ranging such as Charity football matches, physical preparation matches, promotional tours, TV rights obligations, testimonials or just for pure entertainment. Friendly matches are normally played during the off-season or during breaks in domestic league action.