Mexico National Football Team
Fixtures / Results / TV Schedules / Live Streams
| | | | | | |
| --- | --- | --- | --- | --- | --- |
| Live | WCQ | Mar 29 | 10:30pm | Mexico 2 - 0 Canada | Fox Soccer 2Go USA, Fox Sports… |
| Live | WYF | May 18 | 1:30pm | Mexico 1 - 3 France | beIN SPORTS USA, fuboTV, beIN… |
| Live | WYF | May 20 | 11:00am | Mexico 1 - 2 Czech Republic | fuboTV, beIN SPORTS en Español, … |
| Live | WYF | May 22 | 10:00am | Mali 3 - 3 Mexico | beIN SPORTS en Español, b… |
| Live | WYF | May 24 | 11:00am | Bulgaria 0 - 1 Mexico | beIN SPORTS USA, fuboTV, beIN… |
| Live | FRI | May 28 | 5:00pm | Mexico vs Paraguay | Fox Soccer 2Go USA, F… |
| Live | FRI | Jun 2 | 12:00am | Mexico vs Chile | fuboTV, UniMás, Canal 5 T… |
| Live | COA | Jun 5 | 8:00pm | Mexico vs Uruguay | Fox Soccer 2Go USA, F… |
| Live | COA | Jun 9 | 10:00pm | Mexico vs Jamaica | Fox Soccer 2Go USA, F… |
| Live | COA | Jun 13 | 8:00pm | Mexico vs Venezuela | Fox Soccer 2Go USA, F… |

*All times are shown in your local time
News
Photos: Mexico National Soccer Team - KHOU.com
KHOU.com
Photos: Mexico National Soccer Team. Loading... Feb 10, 2016; Miami, FL, USA; Mexico players pose for a group photo before a game against Senegal during a soccer friendly at Marlins Park. Mexico won 2-0. Mandatory Credit: Steve Mitchell-USA TODAY ...
Mexico Soccer Team 2016: Schedule, Roster, News For Copa America Centenario And Upcoming Friendlies - International Business Times
International Business Times
A bit of controversy is nothing new for Mexico squad announcements. And so it was perhaps unsurprising that the revelation of the 23 players who will compete in the Copa America Centenario this summer was accompanied by a tidbit that provided easy ...
Copa America can show Mexico quality and hand Javier Hernandez immortality - ESPN FC (blog)
ESPN FC (blog)
Just how good is the Mexican national team right now? The raw stats suggest that Mexico is one of the form teams in international soccer. El Tri's last defeat in any competition came in the Copa America against Ecuador on June 19 last year, making it a ...
Mexico's Copa America profile, roster, broadcasters
El Tri battled for years to be invited to South America's most prestigious competition. In the meantime, they became one of the toughest competitors in Copa América history. Nevertheless, their most recent performances in the tournament have left their fans clearly disappointed. This will force coach Juan Carlos Osorio and his crew to put up a good show and maybe win their first ever Copa América title.
With one of the best generations of players in the country's football history, and practically being hosts due to the large amount of Mexicans living in the United States, this might be a once in a lifetime opportunity for Mexico to win the coveted trophy.
Mexico's Copa América record
This will be Mexico's tenth Copa América participation. The North American team has never won the tournament, despite reaching the final match twice (in 1993 and 2001). Mexico has struggled to make it past the group stage in their two most recent appearances in this tournament, mostly because CONCACAF forces them to play with an alternate squad, given that the tournament usually coincides with the Gold Cup. This summer, with all their big guns available, Mexico will try to make ammends with their anxious fans. Indeed, El Tri has not won any of its six previous games in the competition (two draws, four losses).
Mexico's current form
Since their Copa América elimination last year, Mexico has managed to stay undefeated in their last 17 games. This run includes friendlies (11 wins, six draws). Ever since Juan Carlos Osorio took the team's coaching job, El Tri has won five games in a row, including four World Cup Qualifying matches. Furthermore, the team's defensive system has been outstanding, keeping five straight clean sheets under Osorio.
Chicharito needs just five goals to become Mexico's all-time top scorer. Will he manage to do that this summer?
Juan Carlos Osorio's profile
After being forced to an early retirement due to a career-ending injury, Juan Carlos Osorio studied to become a coach and eventually landed an assistant position with Manchester City for five years. His first coaching job came with his country's Millonarios, and his biggest accomplishments came with Atlético Nacional, where he won six trophies in just three years. Osorio is well-known for his almost obsessive approach to the game, always changing his tactics in order to keep his opponents guessing.
Osorio, during a World Cup Qualifying match with Mexico.
Copa America broadcasters in Mexico
Televisa and TV Azteca are the confirmed broadcasters for the Copa America in Mexico. We will update this section of the article once we receive more information on their coverage.
Go to Mexico's page for the team's full Copa America Centenario fixtures and global online and TV listings.
Mexico's Copa América Centenario roster
Mexico's eyes are set on the big prize as they currently possess their best generation of players. Names such as Javier Hernández, Andrés Guardado, Guillermo Ochoa and Oribe Peralta are expected to join forces, avoid a group stage exit for the third time in a row and possibly go all the way!
Here's El Tri's 23-man squad that will be playing the tournament:
Goalkeepers: Guiilermo Ochoa(Málaga), Jesús Corona (Cruz Azul), Alfredo Talavera (Toluca).
Defenders: Paul Aguilar (Club América), Nestor Araujo (Santos), Diego Reyes (Real Sociedad), Héctor Moreno (PSV), Yasser Corona (Querétaro), Miguel Layún (Porto), Rafael Márquez (Atlas), Jorge Torres (Tigres UANL).
Midfielders: Andrés Guardado (PSV), Jesús Molina (Santos), Héctor Herrera (Porto), Jesús Dueñas (Tigres UANL), Carlos Peña (Chivas).
Forwards: Javier Hernández (Bayer Leverkusen), Oribe Peralta (América), Jürgen Damm (Tigres UANL), Hirving Lozano (Pachuca), Jesús Manuel Corona (Porto), Raúl Jiménez (Benfica), Javier Aquino (Tigres UANL).
Mexico vs Venezuela TV and Streaming Schedule
Canada: Univision Canada
United States: fuboTV, Fox Sports GO, Fox Sports 1 USA, Univision Deportes USA, Fox Soccer 2GO USA, Univision USA

Mexico vs Jamaica TV and Streaming Schedule
Canada: Univision Canada
United States: fuboTV, Fox Sports GO, Fox Sports 1 USA, Univision Deportes USA, Fox Soccer 2GO USA, Univision USA

Mexico vs Uruguay TV and Streaming Schedule
Canada: Univision Canada
United States: fuboTV, Fox Sports GO, Fox Sports 1 USA, Univision Deportes USA, Fox Soccer 2GO USA, Univision USA

Videos

Chicharito THE MAN For Mexico This Summer
Thursday, 5 May

Los embajadores de #FábricaDeGarra acompañaron a @Tig…
Thursday, 5 May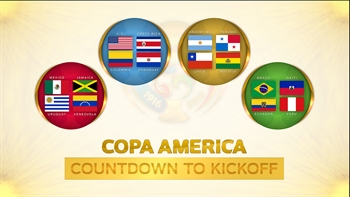 How far can Juan Carlos Osorio take a stacked Mexico te…
Thursday, 5 May

Soccer At The US-Mexico Border
Tuesday, 10 May

SÓCIOS TORCEDORES NO MÉXICO COM A PASSAPORTE FC | SPF…
Tuesday, 10 May
Mexico Football Association Info & Statistics
History
Founded: 1927, Affiliated: 1929
Uniform
Jerseys: Green, Shorts:White, Stockings:Red
Website
http://www.femexfut.org.mx
World Cup Appearances
15: (1930, 1950, 1954, 1958, 1962, 1966, 1970, 1978, 1986, 1994, 1998, 2002, 2006, 2010, 2014)
Continental Titles
First: CONCACAF Championship (1965, 1971), CONCACAF Gold Cup (1993 USA/Mexico, 1996 USA, 1998 USA, 2003 USA/Mexico, 2009 USA, 2011 USA)
Second: CONCACAF Championship (1967), Copa America (1993, 2001), CONCACAF Gold Cup (2007 USA)
Best Results
First: FIFA Confederations Cup (1999), FIFA U-17 World Cup Final (2005, 2011), Olympic Football Tournament Final (2012)
Second: FIFA U-20 World Cup Final (1977), FIFA Beach Soccer World Cup Final (2007), FIFA U-17 World Cup Final (2013)
Third: FIFA Confederations Cup (1995), FIFA Club World Cup (2000, 2012), FIFA U-20 World Cup (2011)
Fourth: Olympic Football Tournament Final (1968), FIFA Confederations Cup (2005), FIFA Club World Cup (2006, 2008, 2009)