Egypt National Football Team
Fixtures / Results / TV Schedules / Live Streams

*All times are shown in your local time
News
The 2018 Soccer World Cup line-up - Sport24
Sport24
The 31-year-old goalkeeper has been part of the Super Eagles campaign and, barring loss of form or serious injury, he is a shoo-in in the final squad. Another one who might go to Russia is Bidvest Wits striker Amr Gamal, who was part of the Egyptian ...
Egypt boss Cuper defends tactics after criticism for overusing Mohamed Salah - ESPN FC
ESPN FC
Cuper answered the criticism on Monday at a packed news conference at Cairo's 100,000-seat stadium, before the national squad trained. "The team may have the potential to perform better, and we could have changed our tactics, but we may also not have ...and more »
EXCLUSIVE | Omar Gaber heading to MLS - KingFut
KingFut
Egypt international and FC Basel full-back Omar Gaber is set to move to Major League Soccer. Former Zamalek right-back Omar Gaber has agreed a move to ... The Basel player found playing time hard to come by this season after heavy competition from fan ...and more »
Surprise Egypt call-up for troubled Shikabala pays off - The Edwardsville Intelligencer
The Edwardsville Intelligencer
FILE - In this Jan. 16, 2010 file photo, Egypt's soccer team player Mahmoud Abdel-Razeq, better known by his nickname as Sheekabala, poses for a photo at the Ombaka National Stadium in Benguela, Angola. A ... more. Photo: Themba Hadebe, AP. Image 2 ...and more »
RELIVE: Ghana v Egypt (2018 World Cup qualifiers) - Ahram Online
Ahram Online
File Photo: Egypt Vs Ghana Egypt's Tarek Hamed (L) vies for the ball against Ghana's Jordan Ayew during the 2018 World Cup qualifying Group E football match between Egypt and Ghana at the Borg el-Arab Stadium near Alexandria on November 13, 2016.
Videos

Mohamed Elneny loves Egypt
Tuesday, 14 Nov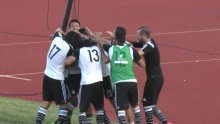 Shikabala celebrates Egypt return in style
Sunday, 12 Nov

Everybody Should Fear Mohammed Salah & Egypt In Wor…
Friday, 17 Nov
Egypt Football Association Info & Statistics
History
Founded: 1921, Affiliated: 1923
Uniform
Jerseys: Red, Shorts:White, Stockings:Black
Website
http://www.efa.com.eg
World Cup Appearances
2: (1934, 1990)
Continental Titles
First: CAN (1957, 1959, 1986, 1998, 2006, 2008, 2010)
Second: CAN (1962)
Best Results
Third: FIFA U-20 World Cup Final (2001), FIFA Club World Cup (2006)
Fourth: Olympic Football Tournament Final (1928, 1964), FIFA Club World Cup (2012, 2012)