Colombia National Football Team
Fixtures / Results / TV Schedules / Live Streams

*All times are shown in your local time
News
Colombia's National Soccer Team Readies for Match Against Haiti Next Sunday at Marlin's Park - NBC 6 South Florida
NBC 6 South Florida
The Colombian national soccer team is busy training in South Florida in preparation for their next match against the Haitian national soccer team at Marlin's Stadium on Sunday May 29th. Players from the South American team began arriving at MIA last ...
Colombian, Haitian national teams ready to go in Miami - Miami Herald
Miami Herald
Local soccer fans can, however, get a sneak preview of the Colombian and Haitian teams at a 5 p.m. Sunday friendly at Marlins Park. The teams are using the match as a warmup for Copa America, which kicks off Friday in Santa Clara, California, with the ...
Colombia vs. Haiti soccer: Cafeteros huge favorites even without James Rodriguez - Examiner.com
Examiner.com
"No, James Rodriguez, no problem," say soccer oddsmakers regarding Sunday's international friendly in Miami, Florida. Hours away from kickoff, Colombia's national soccer team is listed as a huge favorite to defeat Haiti in a tune-up match that will set ...and more »
Alexi Lalas says US national team should contend for Copa America title - MLSsoccer.com
MLSsoccer.com
Just what should be expected from the US national team at the Copa America Centenario? That's been one of the hottest topics in US soccer circles heading into Friday's tournament opener between the US and Colombia, with some observers cynical about ...
Armchair Analyst: Bradley's shift to D-mid a reason for USMNT optimism - MLSsoccer.com
MLSsoccer.com
That is a vast departure from previous iterations of Klinsmann's national team. Here's a look .... He's wildly out of position in case of a turnover, and even if said turnover happens just one time in 10... well, against a team like Colombia, Costa ...and more »
Falcao left out of Colombia's Copa America squad - Goal.com
Goal.com
Colombia's equal all-time goal scorer Radamel Falcao was not included in their preliminary Copa America Centenario squad. On-loan Chelsea striker Radamel Falcao has been left out of Colombia's 40-man preliminary squad for the Copa America ...
Colombia's Copa America profile, roster, broadcasters
Fifteen years after winning their only Copa América title, Colombia returns to the continental tournament with their sights set on taking all the glory back home. Coach Nestor Pékerman decided to leave some key names out of his roster, making James Rodríguez the go-to guy for a team that needs to prove their worth in the international spotlight. Other key players for the Colombian side will be Juan Cuadrado, who recently helped Juventus to win a fifth straight Serie A title, and also Carlos Bacca, who is expected to be the first option to lead their attack.
Colombia's Copa América record
This will be the 20th Copa América for Colombia, having won the 2001 edition at home. Despite having some talented players in most of their rosters, Los Cafeteros have only reached the podium four more times, ending the 1975 edition as runners up, and winning the bronze medal back in 1987, 1993 and 1995. Last year, Pekerman's crew was eliminated by Argentina in the Quarter final stage, but their performance was a huge disappointment, considering they were only able to score one goal in their four games.
Colombia's current form
Since June 2015, the yellow-and-blue side has played twelve games, considering friendlies and World Cup Qualifiers. Their balance isn't that bad, winning five games, drawing four and losing three. Their most recent defeat was handed to them by Argentina back in November, in what turned out to be the first win for the Albiceleste in the 2018 World Cup Qualifiers. Colombia started the year as the eighth best team in the world, according to FIFA's ranking. Their good form and a couple of wins handed them the 4th spot in the May 2016 release.
José Nestor Pékerman's profile
Colombia's Argentine coach was able to lead the team to their best finish in a World Cup tournament back in 2014, where they were eliminated by Brazil. In charge of the team since 2012, Pekerman has developed a balanced system that works with or without a playmaker on the pitch, adapting to the team's needs depending on the opposition. The Argentine is considered to be one of the best coaches in the world for his ability to develop young talent. His three U-20 World Cup titles with Argentina are a good example of what he can do when having the chance to work with rising stars.
The team's wonderful display during the 2014 World Cup earned Pekerman a contract extension until the end of 2018.
Copa America broadcasters in Colombia
DirecTV will provide complete Copa America TV coverage in Colombia, via its dedicated channel DirecTV Sports. Subscribers will have live access to all 32 matches of the summer tournament, and will have the option to stream the matches on their mobile devices via the satellite platform's official app, DirecTV Play.
DirecTV, which offers its web streaming platform for no extra cost to DirecTV subscribers in Colombia, will stream all the games on DirecTVPlay.com.
Go to Colombia's page for the team's full Copa America Centenario fixtures and global online and TV listings.
Colombia's Copa América Centenario roster
Coach Pékerman decided to leave three well-known strikers out of the squad that will play the continental tournament. Radamel Falcao, Teófilo Gutiérrez and Jackson Martínez will have to watch their team-mates on TV, as Pékerman did not include them in his 40-man roster.
Here's Colombia's provisional squad, which will be shortened before the beginning of the competition.
Goalkeepers : David Ospina (Arsenal), Cristian Bonilla (Atlético Nacional), Róbinson Zapata (Santa Fe)
Defenders: Jeison Murillo (Inter Milan), Oscar Murillo (Pachuca), Cristian Zapata (AC Milan), Felipe Aguilar (Atlético Nacional), Santiago Arias (PSV), Farid Díaz (Atlético Nacional), Frank Fabra (Boca Juniors), Stefan Medina (Pachuca).
Midfielders: James Rodríguez (Real Madrid), Carlos Sánchez (Aston Villa), Daniel Torres (Independiente Medellín), Edwin Cardona (Monterrey), Guillermo Celis (Junior), Juan Guillermo Cuadrado (Juventus), Sebastián Pérez (Atlético Nacional), Andrés Felipe Roa (Deportivo Cali)
Forwards: Carlos Bacca (AC Milan), Roger Martínez (Racing Club), Marlos Moreno (Atlético Nacional), Dayro Moreno (Club Tijuana).
Colombia vs Costa Rica TV and Streaming Schedule
Canada: Univision Canada
United States: fuboTV, Fox Sports GO, Fox Sports 2 USA, Univision Deportes USA, Fox Soccer 2GO USA, Univision USA

Colombia vs Paraguay TV and Streaming Schedule
Canada: Univision Canada
United States: fuboTV, Fox Sports GO, Fox Sports 1 USA, Univision Deportes USA, Fox Soccer 2GO USA, UniMás

USA vs Colombia TV and Streaming Schedule
Canada: Univision Canada
United States: Fox Sports GO, fuboTV, Fox Sports 1 USA, Fox Soccer 2GO USA, UniMás, Univision Deportes USA, Univision USA

Videos

Colombia: Copa America Team Profile
Sunday, 8 May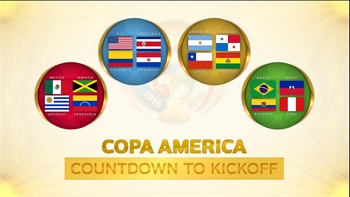 Who steps up for Colombia at Copa America
Sunday, 8 May
Colombia Football Association Info & Statistics
History
Founded: 1924, Affiliated: 1936
Uniform
Jerseys: Yellow, Shorts:White, Stockings:White
Website
http://www.fcf.com.co
World Cup Appearances
5: (1962, 1990, 1994, 1998, 2014)
Continental Titles
First: Copa America (2001)
Second: Copa America (1975), CONCACAF Gold Cup (2000 USA)
Best Results
Third: FIFA U-20 World Cup Final (2003)
Fourth: FIFA U-17 World Cup Final (2003, 2009), FIFA Confederations Cup (2003), FIFA U-20 Women's World Cup Final (2010), FIFA Futsal World Cup Final (2012)