FK Partizan Beograd
Fixtures / Results / TV Schedules / Live Streams

*All times are shown in your local time
News
Partizan passes on signing Damchevski
MacedonianFootball.com
Aleksandar Damchevski was on trial at Partizan for just over two weeks. Obviously, for a player to be tested that long, the team must have wrestled with the final decision. On Friday, we learned what that was as Partizan chose not to sign Damchevski.
As Albania Faces Serbia, Meeting the Drone Pilot Who Ended Their Last Match
New York Times
From there he could see into the Partizan Stadium, where the soccer teams of Serbia and Albania were playing a tense qualification game for the 2016 European Championship. The match was scoreless as halftime approached. In Morina's hands was a ...
Dutch on verge of missing out on Euro 2016
USA TODAY
The team then plays last-place Serbia, which had three points deducted after its qualifier with Albania was abandoned when a drone carrying a pro-Albanian flag flew over the Partizan Stadium in Belgrade, prompting a brawl involving players and some ...
Soccer-Partizan, CSKA through on night of dramatic comebacks
Yahoo Sports
BERNE, Aug 5 (Reuters) - Partizan Belgrade, Astana, Malmo and CSKA Moscow all pulled off impressive comebacks to reach the playoff round of the Champions League qualifiers on Wednesday. Skenderbeu also qualified, putting themselves within two ...
Schalke wins, Tottenham held to draw in Europa League
USA TODAY
Athletic Bilbao lost 2-1 at AZ Alkmaar and Partizan Belgrade won 3-1 at Augsburg in Group L. Giuseppe Rossi rounded off the scoring as Fiorentina won 4-0 at Belenenses to move second in Group I, where FC Basel stayed top with a 2-0 home win over Lech ...
Lazio sink Saint-Etienne in Europa League thriller; Fiorentina win laugher ...
FOXSports.com
Basle and Lokomotiv were both 2-0 winners, against Lech Poznan and Skenderbeu Korce respectively, while Partizan beat Augsburg 3-1 in Germany despite having Aleksandar Subic sent off just after the hour mark. Dnipro Dnipropetrovsk joined Lazio on ...
TOP PHOTOS: October 1, 2015
San Angelo Standard Times
Augsburg's Paul Verhaegh, top, jumps for the ball during the Europa League Group L soccer match between FC Augsburg and Partizan Belgrad at the Augsburg Arena in Augsburg, southern Germany, Thursday Oct. 1, 2015. (AP Photo/Matthias Schrader).
Soccer-Siani named among trio of Cameroon newcomers
Reuters Africa
YAOUNDE, Sept 29 (Reuters) - Midfielder Sebastien Siani's role in helping unfashionable Oostende to the top of the Belgian league has been recognised with a first call-up by Cameroon for a friendly against Nigeria in Brussels on Oct. 11. Coach Volker ...
Videos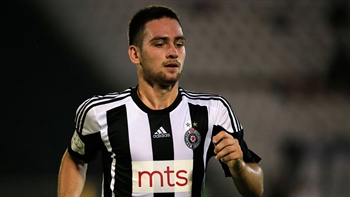 Partizan Belgrade vs. AZ Alkmaar - 2015–16 UEFA Europ…
Thursday, 10 Sep

This is Partizan Belgrade | Developing The Wonderkids
Thursday, 10 Sep