Hannoverscher Sportverein 1896
Fixtures / Results / TV Schedules / Live Stream Listings
| | | | | | |
| --- | --- | --- | --- | --- | --- |
| Live | BUN | Sep 20 | 2:30pm | Freiburg 1 - 1 Hannover 96 | FOX Soccer Match Pass, Sportsne… |
| Live | BUN | Sep 24 | 9:30am | Hannover 96 0 - 0 Köln | fuboTV, Fox Sports 1, FOX Sports G… |
| Live | BUN | Sep 30 | 9:40am | Borussia M'gladbach 2 - 1 Hannover 96 | fuboTV, Fox Sports 2, FOX Sports G… |
| Live | BUN | Oct 14 | 9:30am | Hannover 96 1 - 2 Eintracht Frankfurt | fuboTV, Univision Deportes, FOX So… |
| Live | BUN | Oct 21 | 9:30am | Augsburg 1 - 2 Hannover 96 | FOX Soccer Match Pass, Sportsne… |
| | POK | Oct 25 | 12:30pm | Wolfsburg vs Hannover 96 | Sky Sport 1 HD, Sky Sport 5/HD, T… |
| | BUN | Oct 28 | 9:30am | Hannover 96 vs Borussia Dortmund | fuboTV, Fox Soccer Plus, FOX D… |
| | BUN | Nov 4 | 10:30am | RB Leipzig vs Hannover 96 | fuboTV, Fox Sports 2, FO… |
| | BUN | Nov 19 | 12:00pm | Werder Bremen vs Hannover 96 | FOX Soccer Match Pass, Sportsnet… |
| | BUN | Nov 24 | 2:30pm | Hannover 96 vs Stuttgart | FOX Soccer Match Pass, Sportsnet… |

*All times are shown in your local time
News
Hannover 96 vs. Eintracht Frankfurt | 2017-18 Bundesliga Highlights - FOXSports.com
FOXSports.com
Watch full highlights between Hannover 96 and Eintracht Frankfurt. Bundesliga · Eintracht Frankfurt · Hannover 96 · soccer. Show Transcript Hide Transcript. ANNOUNCER 1: Full credit goes to [INAUDIBLE]. ANNOUNCER 2: Final score 3-2. And a final look at ...and more »
Hannover 96 vs. FC Köln | 2017-18 Bundesliga Highlights - FOXSports.com
FOXSports.com
PHOENIX (AP) If the Phoenix Suns were a Broadway show, they'd close for good after opening night. The Suns weren't just bad in their 124-76 loss to the Portland Trail Blazers in their season opener on Wednesday night. They were historically awful.and more »
Cologne gets 1st Bundesliga point in 0-0 draw at Hannover - Daily Mail
Daily Mail
Hannover's Kenan Karaman, center and Matthias Ostrzolek and Cologne's Lukas Kluenter, left, challenge for the ball during the German first division Bundesliga soccer match between Hannover 96 and 1. FC Cologne at the HDI-Arena in Hannover, Germany, ...and more »
West Ham in Transfer Tug-of-War for Promising Ghanaian Full-Back Rashid Alhassan - Sports Illustrated
Sports Illustrated
West Ham join potential suitors Hannover 96 and Chicago Fire for the hotly-contested signature of Ghanaian U17 international Rashid Alhassan,. According to reports from The Sun, the 17-year-old left-back is one of the names tipped for a big tournament ...and more »
HANNOVER 96 vs. FC KOLN – German Bundesliga (Round 6) - Get More Sports (blog)
Get More Sports (blog)
The newly promoted Hannover 96 team is coming from a 1:1 road draw against Freiburg while FC Koln is coming off from a fifth consecutive loss in the league that occurred at home on Wednesday against not very good Eintracht Frankfurt team. Undefeated ...
Africa's Top 11 Performers In Europe Update - Soccer Laduma
Soccer Laduma
In fourth place is Senegal and Hannover 96 star Salif Sane, who has a rating of 7.77. The 27-year-old defender has made seven league appearances for his German side so far in this campaign, scoring one goal. Marseille and Cameroon international Clinton ...and more »
German Bundesliga Wrap 14 October 2017 - Soccer Laduma
Soccer Laduma
Hannover 1-2 Eintracht Frankfurt. Ante Rebic scored one minute before time to clinch a 2-1 win for Eintracht Frankfurt over Hannover 96 on Saturday afternoon. Sèbastian Heller opened the scoring in the 10th minute for Frankfurt before Salif Sanè ...and more »
TV-radio listings: Sept. 24 - Chron.com
Chron.com
Pro hockey St. Louis at Pittsburgh NBCSN 7 p.m.. Soccer Koln at Hannover 96 FS1 8:30 a.m.. Soccer Newcastle at Brighton & Hove Albion NBCSN 10 a.m.. Soccer Hamburg SV at Bayer Leverkusen FS2 11 a.m.. Soccer Los Angeles at Kansas City Fox 1 p.m..
Videos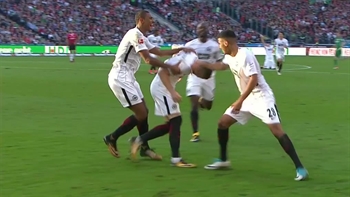 Hannover 96 vs. Eintracht Frankfurt | 2017-18 Bundeslig…
Saturday, 14 Oct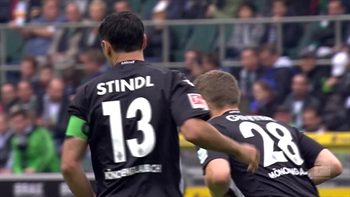 Monchengladbach vs. Hannover 96 | 2017-18 Bundesliga Hi…
Saturday, 9 Sep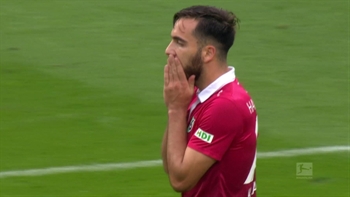 Hannover 96 vs. FC Köln | 2017-18 Bundesliga Highlights
Sunday, 10 Sep
Newsletter Signup »
Upcoming Top Matches »
Manchester United

Oct 28




7:30am

Tottenham Hotspur
Arsenal

Oct 28




10:00am

Swansea City
Liverpool

Oct 28




10:00am

Huddersfield Town
AFC Bournemouth

Oct 28




12:30pm

Chelsea
Bayern München

Oct 28




12:30pm

RB Leipzig
Athletic Club

Oct 28




2:45pm

Barcelona
Girona

Oct 29




11:15am

Real Madrid