TSV Bayer 04 Leverkusen
Fixtures / Results / TV Schedules / Live Streams
| | | | | | |
| --- | --- | --- | --- | --- | --- |
| Live | BUN | Dec 19 | 9:30am | Ingolstadt 0 - 1 Bayer Leverkusen | Fox Soccer 2Go USA, Fox Deportes, … |
| Live | FLC | Jan 10 | 5:00pm | Bayer Leverkusen 1 - 0 Santa Fe | ESPN Deportes TV, ESPN3, Watch E… |
| Live | FLC | Jan 13 | 8:30pm | Internacional vs Bayer Leverkusen | ESPN Deportes TV, ESPN3, Watch E… |
| Live | BUN | Jan 23 | 9:30am | Hoffenheim 1 - 1 Bayer Leverkusen | Fox Soccer 2Go USA, Fox Sports… |
| Live | BUN | Jan 30 | 9:30am | Bayer Leverkusen 3 - 0 Hannover 96 | Fox Soccer 2Go USA, Sportsnet W… |
| Live | BUN | Feb 6 | 12:30pm | Bayer Leverkusen vs Bayern München | FOX Network, Fox Soccer 2Go… |
| Live | POK | Feb 9 | 1:00pm | Bayer Leverkusen vs Werder Bremen | ESPN Deportes TV, ESPN… |
| Live | BUN | Feb 13 | 9:30am | Darmstadt 98 vs Bayer Leverkusen | Fox Soccer 2Go USA, Sportsne… |
| Live | UEL | Feb 18 | 3:05pm | Sporting CP vs Bayer Leverkusen | Fox Soccer 2Go USA, E… |
| Live | BUN | Feb 21 | 9:30am | Bayer Leverkusen vs Borussia Dortmund | Fox Soccer 2Go USA, Sportsne… |

*All times are shown in your local time
News
Soccer TV: Bayer Leverkusen vs Bayern Munich
U.S. National Soccer Players
bayer leverkusen bayern munich bundesliga february 2016 The weekend soccer TV schedule has the Bundesliga returning to network television on Saturday with Fox showing Bayer Leverkusen hosting Bayern Munich. The Premier League also gets a ...
Bayer Leverkusen in Florida Cup as part of German Bundesliga's push to reach American market
Orlando Sentinel
A few dozen fans gathered behind the goal at the ChampionsGate soccer fields early last week to catch a glimpse of Bayer Leverkusen players, namely Mexican soccer star Javier "Chicharito" Hernandez. Talk was of Chicharito's goal-scoring feats, a hot ...
German clubs Bayer Leverkusen, FC Schalke open Florida Cup with wins
Orlando Sentinel
A large contingent of Colombian fans were in attendance to support Independiente Santa Fe, while there were also some Bayer Leverkusen fans and a vocal group of Mexican fans there to catch a glimpse of superstar Javier "Chicharito" Hernandez.
Bayer 04 Leverkusen replace Adidas with Jako
SportsPro Media
German Bundesliga soccer club Bayer 04 Leverkusen have agreed terms on a new kit deal with Jako. The new deal will see the German brand replace Adidas as the side's kit supplier for the next two years, beginning at the start of the 2016/17 season.
Videos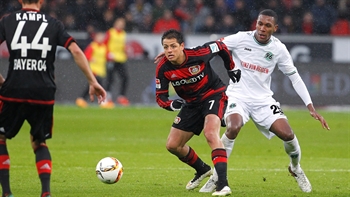 Bayer Leverkusen vs. Hannover 96 | 2015–16 Bundesliga…
Saturday, 2 Jan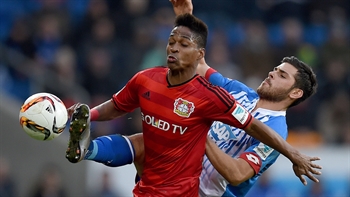 1899 Hoffenheim vs. Bayer Leverkusen | 2015–16 Bundes…
Saturday, 2 Jan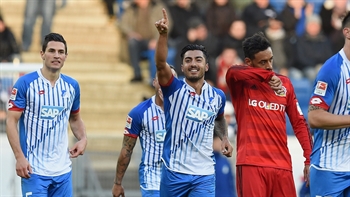 Hamad gives Hoffenheim lead against Bayer Leverkusen…
Saturday, 2 Jan

Toprak goal equalizes for Bayer Leverkusen vs. Hoffenhe…
Saturday, 2 Jan