Crystal Palace FC
Fixtures / Results / TV Schedules / Live Streams
| | | | | | |
| --- | --- | --- | --- | --- | --- |
| Live | EPL | Jan 16 | 10:00am | Manchester City 4 - 0 Crystal Palace | NBCSN, NBC Sports Live Extra, Wes… |
| Live | EPL | Jan 23 | 10:00am | Crystal Palace 1 - 3 Tottenham Hotspur | USA Network, NBC Sports Live Ext… |
| Live | FAC | Jan 30 | 10:00am | Crystal Palace 1 - 0 Stoke City | BBC Radio |
| Live | EPL | Feb 2 | 3:00pm | Crystal Palace 1 - 2 AFC Bournemouth | NBC Sports Live Extra, Westwood O… |
| Live | EPL | Feb 6 | 10:00am | Swansea City 1 - 1 Crystal Palace | NBC Sports Live Extra, Premier L… |
| Live | EPL | Feb 13 | 10:00am | Crystal Palace vs Watford | NBC Sports Live Extra, Prem… |
| Live | FAC | Feb 21 | 10:00am | Tottenham Hotspur vs Crystal Palace | Sportsnet World Now, ESPN no Brasi… |
| Live | EPL | Feb 27 | 12:30pm | West Bromwich Albion vs Crystal Palace | NBC Sports Live Extra, … |
| Live | EPL | Mar 1 | 2:45pm | Sunderland vs Crystal Palace | NBC Sports Live Extra, … |
| Live | EPL | Mar 6 | 8:30am | Crystal Palace vs Liverpool | NBC Sports Live Extra, … |

*All times are shown in your local time
News
Soccer-Crystal Palace forward Wickham suspended for three games
Yahoo Sports
LONDON, Jan 29 (Reuters) - Crystal Palace forward Connor Wickham has been handed a three-match ban for elbowing Tottenham Hotspur's Belgium defender Jan Vertonghen in last weekend's Premier League game, the FA said on Friday. Wickham went ...
Soccer-Crystal Palace bring Adebayor back to Premier League
Yahoo Sports
Crystal Palace manager Alan Pardew acknowledged that the club were interested in Adebayor following their 3-1 defeat to Spurs on Saturday and said he had no doubt he could deal with the player, who has fallen out with previous managers. The lanky ...
Dede's Swansea held by Crystal Palace
GhanaWeb
Ghana winger Andre Ayew was in action for Swansea City who shared the spoils in a 1-1 draw with Crystal Palace in the English Premier League on Saturday. A host of Swansea defenders scrambled in their box to deny Andre Ayew from doubling the host's ...
Promising Ghanaian midfielder Hiram Boateng makes debut for Crystal Palace
GhanaWeb
English-born Ghanaian midfielder Hiram Boateng made his English Premier League debut on Saturday by coming off the bench as a late substitute for Crystal Palace in their 1-1 draw at Swansea City. The 20-year-old came off the Eagles bench on the 78th ...
Dele Alli's stunning goal lifts Hotspur past Crystal Palace
CBC.ca
Tottenham Hotspur midfielder Dele Alli scored a stunning goal that broke a second half deadlock to lead Tottenham past Crystal Palace at Selhurst Park in a Premier League match on Saturday. With the game knotted at 1-1 with time winding down, the ...
Aston Villa 1 – Crystal Palace 0
U.S. National Soccer Players
Aston Villa picked up three points for only the second time this Premier League season, but they did it with Mark Bunn in goal rather than USMNT player Brad Guzan. Villa beat Crystal Palace 1-0 at Villa Park to raise their points total to 11 from 20 games.
Bournemouth rallies to beat Crystal Palace 2-1 in EPL
USA TODAY
LONDON (AP) — Bournemouth boosted its bid for survival with a 2-1 win Tuesday as Crystal Palace lost its fifth straight Premier League match. Defender Scott Dann opened with an impressive volley for the Eagles in the 27th minute but the southern coast ...
Videos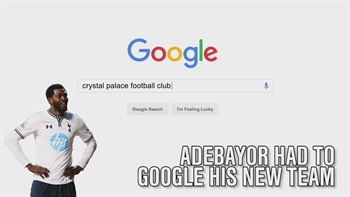 Adebayor admits he had to Google his new club Crystal P…
Thursday, 7 Jan