FC Viktoria Plzeň
Fixtures / Results / TV Schedules / Live Stream Listings

*All times are shown in your local time
News
Europa League Round Up: Acheampong provides two assists - GhanaWeb
GhanaWeb
Elsewhere at the STADE DE SUISSE Wankdorf Bern, defender Kasim Nuhu perpetuated his impressive run with Swiss side Young Boys as they posted a 3-0 win over Astana FC. While the Real Mallorca loanee was excelling, forward Patrick Twumasi played ...and more »
The day in photos: Dec. 8, 2016 - New York Post
New York Post
APTOPIX Czech Republic Soccer Europa League. Austria's fans celebrate their sides first goal during the Europa League group E soccer match between FK Austria Vienna and FK Viktoria Plzen at Doosan Arena in Plzen, Czech Republic. Photo: AP.and more »
Europa League: Austria verjuxt den Aufstieg - Kurier
Kurier
Dabei sah alles so gut aus in Pilsen, wo Trainer Fink die üblichen Verdächtigen aufs Feld schickte. Der junge Prokop ersetzte den gesperrten Grünwald. Die Austrianer benötigten nach drei Minuten Beruhigungs-Pulver. Nach einem verunglückten Abschlag ...and more »
Today's top pics: Christmas market in Germany and more - Casper Star-Tribune Online
Casper Star-Tribune Online
Petr David Josek. Austria's fans celebrate their sides first goal during the Europa League group E soccer match between FK Austria Vienna and FK Viktoria Plzen at Doosan Arena in Plzen, Czech Republic, Thursday, Dec. 8, 2016. (AP Photo/Petr David Josek).and more »
Watch Diego Perotti score on a jaw-dropping rabona - FOXSports.com
FOXSports.com
Perotti, bless his heart, admitted that it wasn't an attempt on goal after the 4-1 win against Viktoria Plzen. "The truth is that I tried to cross it," Perotti said via Roma's website. "But it's good that it went in – for the team, because it killed ...
United can't afford any more slip-ups - Independent Online
Independent Online
Berlin - Manchester United cannot afford another slip-up when they host Feyenoord on Thursday in their bid to reach the knock-out stages of the Europa League. Jose Mourinho's team are coming off a 2-1 defeat at Fenerbahce, and will be eliminated if ...
Schedule of Europa League games on US TV and streaming on December 8, 2016 - World Soccer Talk
World Soccer Talk
As for those teams who are definitely out of the running to qualify for the next round, they are Astana, Gabala, Internazionale Milan, Konyaspor, Mainz, Nice, Panathinaikos, Rapid Wien, Salzburg, Sassuolo, Viktoria Plzeň, Young Boys and Zorya Luhansk.
Roma's Egyptian winger Mohamed Salah out for 3 weeks with ankle injury - Ahram Online
Ahram Online
Football Soccer - AS Roma v Viktoria Plzen - UEFA Europa League Group Stage - Group E - Olympic Stadium, Rome, Italy - 24/11/16 AS Roma's Mohamed Salah in action with Viktoria Plzen's Jan Kovarik. (Photo: Reuters) ...
Videos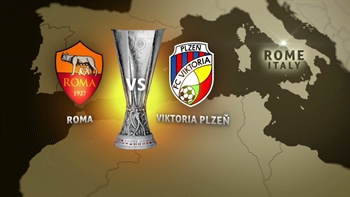 Roma vs. Viktoria Plzen | 2016-17 UEFA Europa League Hi…
Thursday, 17 Nov
Newsletter Signup »
Upcoming Top Matches »