FIFA Club World Cup
Fixtures / Results / TV Schedules / Live Stream Listings
Saturday, 15 December 2018

Live

11:30am

ES Tunis 0 - 3 Al Ain
Fox Soccer Plus, fuboTV, UNIVERSO, U…
Tuesday, 18 December 2018

Live

8:30am

ES Tunis

P

1 - 1 Guadalajara

*Fifth Place Match

Fox Sports 2, fuboTV, UNIVERSO, UNIV…

Live

11:30am

River Plate 2 - 2

P

Al Ain

*FIFA Club World Cup: Semi Final 1

Fox Sports 2, fuboTV, Telemundo, UNIVERSO, …
Wednesday, 19 December 2018

Live

11:30am

Kashima Antlers 1 - 3 Real Madrid

*Semi Final 2

Fox Sports 2, fuboTV, Telemundo, FOX Sport…
Saturday, 22 December 2018

Live

8:30am

Kashima Antlers 0 - 4 River Plate

*Third Place Match

Fox Sports 2, fuboTV, UNIVERSO, UNIV…

Live

11:30am

Real Madrid 4 - 1 Al Ain

*Final

Fox Sports 1, fuboTV, Telemundo, FOX Sport…

*All times are shown in your local time
News
Borre: River just had to finish on a high note - FIFA.com
River Plate ended their FIFA Club World Cup UAE 2018 campaign with a win, and greeted it with a sigh of relief, some smiles, a few shouts of encouragement,
On-song Llorente continues family saga - FIFA.com
Over the last two months, Marcos Llorente has slowly but surely got himself noticed. The biggest disc
Morocco to Bid to Host FIFA Club World Cup 2019, 2020 - Morocco World News
Rabat – Morocco intends to bid for hosting rights of the 2019 and 2020 FIFA Club World Cup. During th
Morocco World News
(2 days ago)
Real Madrid win Club World Cup, City stunned - UEFA.com
Real Madrid clinched a record fourth FIFA Club World Cup title on a rare off-day for Manchester City.
Videos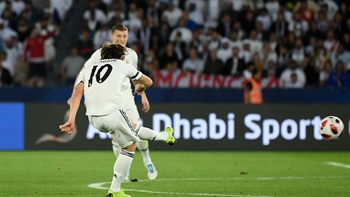 Luka Modric's curler has given Real Madrid an early lea…
Saturday, 22 Dec
About FIFA Club World Cup
The FIFA Club World Cup is a tournament run by football's governing body. It was first played in the year 2000 and experienced a four-year hiatus due to marketing problems. 
This competition is played by champions from all the confederations affiliated to FIFA. Added to them, the Organizing Committee invites a local team.
The tournament begins with the local club facing Oceania's champion. The winner goes on to face the African, Asian or Central American champions in the Quarterfinals. European and South American clubs are given a bye until the semi-final stage. The winner of this competition is named Champion of the World and is given a hefty five million dollar bonus.
The 2017 edition saw Real Madrid claim back-to-back titles, this time by defeating Gremio. It was the first time in which a defending champion defended their title successfully.
The 2018 FIFA Club World Cup will be played in the United Arab Emirates from December 12 to December 22. This will be the fifth edition of this tournament to be held in that country.
Did you know? Real Madrid and Barcelona are the most successful clubs in this competition, having won three FIFA CWC titles. No team from Africa, CONCACAF, Oceania or Asia has been able to win this trophy.
Tweets by LiveSoccerTV
Newsletter Signup »
Upcoming Top Matches »
Bayern München

Jan 27




9:30am

Stuttgart
Girona

Jan 27




10:15am

Barcelona
Espanyol

Jan 27




2:45pm

Real Madrid
Arsenal

Jan 29




2:45pm

Cardiff City
Manchester United

Jan 29




3:00pm

Burnley
AFC Bournemouth

Jan 30




2:45pm

Chelsea
Liverpool

Jan 30




3:00pm

Leicester City