AFC Asian Cup
Fixtures / Results / TV Schedules / Live Streams
No data found.
News
Serbian soccer coach shows interest in leading Guam's Matao - KUAM.com
KUAM.com
One coach though has taken to social media expressing his desire to head Matao - Serbian pro football coach Nikola Kavazovic - taking to Twitter saying his "first choice would be to coach @guamfootball with full commit to qualify for the AFC Asian Cup ...
Asian football can take heart from European Championship expansion - ESPN FC (blog)
ESPN FC (blog)
The same expansion will take place at the next Asian Cup in 2019. In April 2014, the AFC decided that 16 teams was no longer enough and that the United Arab Emirates would host a 24-team tournament. "We must market our product and generate income to ...and more »
China slowly becoming a football power as Hulk joins Chinese Super League - I Geek Soccer (blog)
I Geek Soccer (blog)
As former Zenith striker and Brazil international, Hulk completes a £46.1million switch to Chinese side, Shanghai SIPG, he joins a host of popular football stars on the Asian continent. The super rich league continues to attract players and coaches of ...and more »
Malaysia target second Oceania victory against Olympic-bound Fiji - ESPN FC (blog)
ESPN FC (blog)
The Oceania tour was organised to increase Malaysia's rankings and also serve as warmup ahead of the biennial Suzuki Cup in November. Besides the Suzuki Cup, the Southeast Asians also made the final phase qualifiers of the 2019 AFC Asian Cup after ...and more »
Indonesia missed out on Jose Mourinho but Alfred Riedl can do job - ESPN FC (blog)
ESPN FC (blog)
The former Austria coach took Vietnam to the quarterfinals of the 2007 AFC Asian Cup, the best continental performance by a team from the region in memory. Throw in time with Laos and club football in Indonesia and Vietnam and the curriculum vitae is ...
China bids to host 2023 AFC Asian Cup - China.org.cn
China.org.cn
China, Indonesia, South Korea and Thailand have expressed interest in bidding for hosting the football Asian Cup to be held in 2023, the Asian Football Confederation (AFC) said on Tuesday. During the meeting held in the Malaysian capital, the AFC ...
Canada vs. Uzbekistan | International Friendly Match Preview - MLSsoccer.com
MLSsoccer.com
Meanwhile, Uzbekistan has never qualified for FIFA's showcase tourney, although the team did storm through the early rounds of 2018 qualifying and are definitely in the mix for the fifth-place spot in the Asian confederation. If Canada can somehow get ...and more »
Thailand use King's Cup to warm up for World Cup QF and Suzuki Cup - ESPN FC (blog)
ESPN FC (blog)
United Arab Emirates finished third in the 2015 AFC Asian Cup in Australia. 1. A dress rehearsal with the United Arab Emirates. A few eyebrows were raised when the UAE were invited to participate, given that they will be one of Thailand's Group B ...and more »
About AFC Asian Cup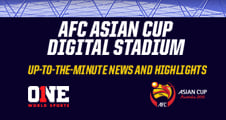 The AFC Asian Cup is held every four years. The current edition of the AFC Asia Cup is Australia 2015 and will run from January 9-31, 2015. The previous champion from the 2011 competition is Japan. The new champion will be crowned the Asian Football Champion and is automatically entered into the 2017 FIFA Confederations Cup, which is to be hosted by Russia, one year before the Russia World Cup 2018. This year's tournament will involve 16 teams and 32 exciting matches.