AFC Asian Cup
Fixtures / Results / TV Schedules / Live Streams
Monday, January 26, 2015

Live

4:00am

Korea Republic 2 - 0 Iraq

*Semifinals

One World Sports, Eurosport 2 Internation…
Tuesday, January 27, 2015

Live

4:00am

Australia 2 - 0 United Arab Emirates

*Semifinals

One World Sports, Eurosport 2 Internation…
Friday, January 30, 2015

Live

4:00am

Iraq 2 - 3 United Arab Emirates

*Third Place Match

One World Sports, Fox Sports 4 Australia, …
Saturday, January 31, 2015

Live

4:00am

Korea Republic 1 - 2 Australia

*2015 AFC Asian Cup Final

One World Sports, Eurosport 2 Internation…
Sunday, April 05, 2015

Live

6:10am

Korea Republic vs India
One World Sports, Foxtel Play, Astro Super…
Saturday, May 16, 2015

Live

7:00am

Korea Republic vs Japan
Astro Supersport 4

*All times are shown in your local time
Channels licensed to broadcast AFC Asian Cup in United States
One World Sports
2012-2015
Exclusive rights in North America. Coverage includes live games and highlights. In Canada, matches are available online. in the US, video highlights package is available online and matches available on One World Sports Channel.
News
AFC leaders in awe of Australia's Asian Cup
Football Australia
But some significant figures in Asian football preferred to talk about their own feelings of being in Australia in January. "It was the best Asian Cup in terms of spectators and viewership on television. We reached over 650,000 fans and there was a lot ...
FIFA/Coca-Cola World Ranking Bright horizons for Timor-Leste
FIFA.com
Timor-Leste have competed in qualifying for just one AFC Asian Cup, but a focus on regional football has provided solid foundations. After several failures they were finally in the winner's circle in preliminary qualifying for the AFF Suzuki Cup in ...
The final straw: The real reason why Palestine wants Israel out of FIFA
Mondoweiss
Only days before the tournament, the Palestinian Football Association (PFA) contacted the Beach Soccer Worldwide (BSW), the governing body of beach soccer which falls under FIFA's umbrella, and released a press release which read: "The Palestinian ...
Happy birthday to you!
FIFA.com
Saad Al-Hutti (61) made history by captaining Kuwait at the 1982 FIFA World Cup Spain™, which remains the diminutive nation's only appearance on football's greatest stage. In addition, he propelled Al Azraq to glory at the 1980 AFC Asian Cup, four ...
Cong Vinh taking inspiration from history
FIFA.com
A football match seems trivial, given that their country has been scarred by war for decades. Nevertheless ... The country's leading scorer was part of the side that sprung a surprise in reaching the 2007 AFC Asian Cup quarter-finals as co-hosts. He ...
Australia's 20-year old focus on football unveiled
spyghana.com
On the back of the national men's team success at the 2015 AFC Asian Cup where the Socceroos defeated South Korea in a home final, Football Federation Australia (FFA) chief David Gallop outlined the sport's mission in Australia for the next two decades ...
In-form Gao aims high with China
FIFA.com
After representing China PR at the Olympic Football Tournament Beijing 2008, he completed his first international hat-trick in an AFC Asian Cup qualifier against Vietnam. But perhaps, the most memorable moment came in a 2010 friendly against Korea ...
AFC Asian Cup Quarter-Finals preview and predictions
World Soccer Talk
Stylistically China have also shown that they are capable of playing eye-catching football and going direct when they need to and have shown an inner steel hitherto unknown in recent years after coming back from a goal down to defeat Uzbekistan.
Five Reasons To Watch The 2015 AFC Asian Cup
Paste Magazine
The last decade of Australian soccer has been the country's best. After leaving the Oceania Football Federation to join Asia's in 2005, they've qualified for three straight World Cups and now host their first Asian Cup tournament. The distance between ...
Blatter ally Shaikh Salman re-elected AFC president unopposed
Times LIVE
The Bahraini royal, hosting the Asian Football Confederation (AFC) congress in his home city of Manama, was "elected by acclamation" to a four-year term until 2019. Shaikh Salman, 49, also became a FIFA vice president after the AFC decided to ...
About AFC Asian Cup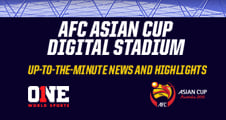 The AFC Asian Cup is held every four years. The current edition of the AFC Asia Cup is Australia 2015 and will run from January 9-31, 2015. The previous champion from the 2011 competition is Japan. The new champion will be crowned the Asian Football Champion and is automatically entered into the 2017 FIFA Confederations Cup, which is to be hosted by Russia, one year before the Russia World Cup 2018. This year's tournament will involve 16 teams and 32 exciting matches.