AFC Asian Cup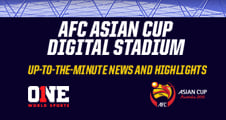 The AFC Asian Cup is held every four years. The current edition of the AFC Asia Cup is Australia 2015 and will run from January 9-31, 2015. The previous champion from the 2011 competition is Japan. The new champion will be crowned the Asian Football Champion and is automatically entered into the 2017 FIFA Confederations Cup, which is to be hosted by Russia, one year before the Russia World Cup 2018. This year's tournament will involve 16 teams and 32 exciting matches.
Fixtures / Results / TV Schedules / Live Streams
Friday, January 23, 2015

Live

4:30am

Japan 1 - 1

P

United Arab Emirates

*Quarterfinals

One World Sports, Fox Sports 4 Australia, …
Monday, January 26, 2015

Live

4:00am

Korea Republic 2 - 0 Iraq

*Semifinals

One World Sports, Eurosport 2 Internation…
Tuesday, January 27, 2015

Live

4:00am

Australia 2 - 0 United Arab Emirates

*Semifinals

One World Sports, Eurosport 2 Internation…
Friday, January 30, 2015

Live

4:00am

Iraq 2 - 3 United Arab Emirates

*Third Place Match

One World Sports, Fox Sports 4 Australia, …
Saturday, January 31, 2015

Live

4:00am

Korea Republic 1 - 2 Australia

*2015 AFC Asian Cup Final

One World Sports, Eurosport 2 Internation…
Sunday, April 05, 2015

Live

6:10am

Korea Republic vs India
One World Sports, Foxtel Play, Astro Super…

*All times are shown in your local time
Channels licensed to broadcast AFC Asian Cup in United States
One World Sports
2012-2015
Exclusive rights in North America. Coverage includes live games and highlights. In Canada, matches are available online. in the US, video highlights package is available online and matches available on One World Sports Channel.
News
World Cup 2018: straightforward draw for Socceroos in Asian qualifying
The Guardian
home · US · world · opinion · sports selected · soccer selected · tech · arts · lifestyle · fashion · business · travel · environment · science. browse all sections close. home · US ... the eight groups also progressing. — AFC Asian Cup (@afcasiancup ...
One World Sports looks forward to a 2015 filled with its soccer programming
World Soccer Talk
One World Sports has the broadcast rights in the United States to the AFC Asian Cup, AFC Champions League and the New York Cosmos. The network also broadcasts Chelsea TV, Bayern Munich TV and Arsenal TV. This includes match rebroadcasts and ...
Japan, Iran, Qatar keep Asian flag flying after Australia's heroics
ESPN FC (blog)
There were only two survivors from the 11 that started the last game, the quarterfinal of the 2015 AFC Asian Cup in January: captain Makoto Hasebe (the best player on the pitch) and Southampton defender Maya Yoshida. Stars attackers Keisuke Honda, ...
Mark Bosnich backs Socceroos and A-League in Canberra
The Canberra Times
Australian great Mark Bosnich has come out swinging for Canberra, declaring the capital deserves to host the Socceroos in a World Cup qualifier and urging officials to reignite an A-League bid. ACT Chief Minister Andrew Barr has put the Socceroos' on ...
Soccer Rankings: Top 6 Best Soccer Players in the World By Continent
Latin Post
Cahill doesn't have the passing or striking abilities of a Messi or Ronaldo, but he does have one of the best headers in the game today. In 2015, he led Australia to their first ever AFC Asian Cup Victory. His best moment came in the quarterfinals when ...
Game Details
ESPN FC
Host nation Australia won their first Asian Cup title in their third attempt after they defeated two time champions South Korea 2-1 in the final of the 2015 edition in Sydney on Saturday night. Substitute James Troisi tapped home the winner after Kim ...
Five reasons to watch the 2015 AFC Asian Cup in Australia
ESPNFC - Football News and Scores (blog)
From Australia trying to prove its mettle as a genuine football nation to regional heavyweights Japan and South Korea wanting to lay World Cup ghosts to rest, plus the emotional debut of Palestine ... the 2015 AFC Asian Cup has no shortage of sub-plots ...
AFC Asian Cup Quarter-Finals preview and predictions
World Soccer Talk
Stylistically China have also shown that they are capable of playing eye-catching football and going direct when they need to and have shown an inner steel hitherto unknown in recent years after coming back from a goal down to defeat Uzbekistan.
Qatar 2022 Supreme Committee to Join SAFA, ICSS and Australian FA at ...
World Football Insider
Featuring Nasser Al-Khater, Communications and Marketing Director (Supreme Committee for Delivery & Legacy), Mark Falvo, Head of International Affairs & Government Relations (Football Federation Australia), Danny Jordaan, President (South African ...
Five Reasons To Watch The 2015 AFC Asian Cup
Paste Magazine
The last decade of Australian soccer has been the country's best. After leaving the Oceania Football Federation to join Asia's in 2005, they've qualified for three straight World Cups and now host their first Asian Cup tournament. The distance between ...