Atlanta United FC
Spielpaarungen / Ergebnisse / TV-Programm / Live-Streams
Live

MLS

Sep 27

19:05

Atlanta United 3 - 0 Philadelphia Union
fuboTV, DIRECTV, FOX Sports GO, …

Live

MLS

Sep 30

19:40

New England 0 - 0 Atlanta United
fuboTV, DIRECTV, FOX Sports GO, …

Live

MLS

Okt 3

19:10

Atlanta United 2 - 3 Minnesota United
fuboTV, DIRECTV, MLS Live, Fox Spo…

Live

MLS

Okt 15

17:20

New York RB 0 - 0 Atlanta United
fuboTV, Fox Sports 1, FOX Sports G…

Live

MLS

Okt 22

16:20

Atlanta United 2 - 2 Toronto
DIRECTV, FOX Sports GO, MLS Liv…

Live

MLS

Okt 26

19:00

Atlanta United 0 - 0

P

Columbus Crew

*Play-Off

fuboTV, ESPN2, ESPN3, Univision Dep…

*Alle Zeiten werden in Ihrer Ortszeit angezeigt
News
Julian Gressel von Atlanta United | Dieser Deutsche zeigt den Amis, wie ... - BILD
BILD
Bastian Schweinsteiger (33) hatte mit Chicago 2:0 gegen Atlanta gewonnen. Und damit auch gegen Deutschlands größte Fußball-Hoffnung in den USA: Julian Gressel (23). Dann sagte der Weltmeister zum Mittelfeldspieler von Atlanta United: "Ich werde dich ...
"Gressel Mania": Deutsches MLS-Talent "Rookie of the Year" - kicker
kicker
United sorgte in Atlanta mit spektakulärem Offensiv-Fußball unter Coach "Tata" Martino für einen ungeahnten Hype, im neuen Mercedes Benz Stadium für neue MLS-Zuschauerrekorde und zog als erst dritte Franchise der Liga-Historie gleich im ersten Jahr in ...
Fünfmal Aluminium: Atlanta scheitert vor Rekordkulisse - kicker
kicker
Bitteres Aus: Jeff Larentowicz und Atlanta United sind nach der Pleite aus den Play-offs ausgeschieden. ... Atlanta verlor mit 1:3 und hat damit den Einzug in die Halbfinals der Eastern Conference verpasst, wo Columbus nun auf New York City trifft.
MLS-Märchen Atlanta United: So will die Liga sein - RAN
RAN
Blank hatte auch Zeit genug, rund sechs Jahre kämpfte er von 2008 an für eine Fußball-Franchise in Atlanta, ehe er 2014 grünes Licht bekam. Am 5. März 2017 feierte Atlanta United das MLS-Debüt, etwas mehr als ein halbes Jahr später ist der Klub der ...
Atlanta midfielder Julian Gressel wins 2017 AT&T MLS Rookie of the ... - MLSsoccer.com
MLSsoccer.com
Atlanta United midfielder Julian Gressel was named 2017 AT&T MLS Rookie of the Year on Wednesday, winning the award after a sparkling first professional ...und weitere »
Deutsches MLS-Talent Gressel: "Nicht mit Leipzig vergleichbar" - kicker
kicker
Julian Gressel (23) steht seit dieser Saison bei der neuen MLS-Franchise Atlanta United unter Vertrag. Der Mittelfeldmann, der 2013 den Sprung aus seiner Heimatstadt Neustadt an der Aisch ans Providence College gewagt hatte, zählte vom Fleck weg zu ...
MLS komplett kurios: Giovinco ext ein Bier, schießt dann ein ... - DIE WELT
DIE WELT
Sebastian Giovinco ging einst für Juventus Turin auf Torejagd. Eines seiner größten Spiele lieferte er nun aber in der MLS ab. Nach einem geleerten Bier ...
Videos

Highlights: Atlanta United FC vs. Columbus Crew SC | Oc…
Samstag, 14 Okt

LIVE AUDIO: Columbus Crew SC at Atlanta United FC | Kno…
Donnerstag, 12 Okt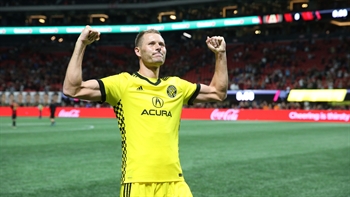 Atlanta United FC vs. Columbus Crew SC | 2017 MLS Playo…
Donnerstag, 12 Okt
Newsletter-Anmeldung »
Die nächsten Top-Begegnungen »
Manchester United

Nov 25




10:00

Brighton & Hove Albion
Real Madrid

Nov 25




10:15

Málaga
Liverpool

Nov 25




12:30

Chelsea
Borussia M'gladbach

Nov 25




12:30

Bayern München
Burnley

Nov 26




9:00

Arsenal
Valencia

Nov 26




14:45

Barcelona
Watford

Nov 28




15:00

Manchester United
Arsenal

Nov 29




14:45

Huddersfield Town
Chelsea

Nov 29




14:45

Swansea City
Stoke City

Nov 29




15:00

Liverpool