AS Roma
Fixtures / Results / TV Schedules / Live Streams

*All times are shown in your local time
News
Soccer-Szczesny moves from Arsenal to AS Roma
Yahoo Sports
Roma said Szczesny, who has made 181 appearances for Arsenal since his senior debut in 2009 as a 19-year-old, had signed a one-year contract on Wednesday after successfully completing a medical in Rome. "I've come here to win games and trophies ...
Manchester City and AS Roma thrill MCG and make up for last Saturday's Real ...
Sydney Morning Herald
Anybody hoping last night for a soccer match with some blood and thunder, anybody hoping for a contest that featured desperate last-ditch tackles and irresistible attacks on goal - in other words anybody hoping for the opposite of the surgical 0-0 ...
Real Madrid v AS Roma: Paper planes the crowd highlight
Sydney Morning Herald
Some of the biggest names in international soccer, in Melbourne - it had the mouths of sport fans watering. Cristiano Ronaldo and Gareth Bale going head to head with Francesco Totti and Daniele De Rossi, to name just a couple. Karim Benzema, Sergio ...
Does AS Roma need to purchase a new goalkeeper?
World Soccer Talk
Rebounding from a year when the club yet again failed to reclaim the Serie A title from Juventus, Roma will no doubt look to better their northern rivals during the upcoming season. One of the capital club's biggest strengths is its depth. The Romans ...
Soccer: Roma legend Francesco Totti to light up MCG
Sydney Morning Herald
While Roma is probably the least glamorous of the three clubs making up this International Champions Cup competition, it still has a proud history and is one of the so-called seven sisters of Italian football, the big clubs that have dominated Serie A ...
Soccer-Indonesia airport officials deny entry to five Roma players
Yahoo Eurosport UK
After arriving in Jakarta for the first time in club history ahead of their "AS Roma Indonesia Day 2015" programme, officials informed the Serie A side that five players would not be able to enter the country. Seydou Doumbia, Gervinho, Victor Ibarbo ...
Videos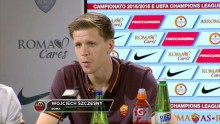 Szczesny talks up Roma move
2 days ago

Andreas Beck folgt Lukas Podolski! Roman Weidenfeller b…
Friday, 10 Jul