Spain National Football Team
Fixtures / Results / TV Schedules / Live Streams
Live

FUT

Sep 15

7:00pm

Azerbaijan vs Spain
Fox Soccer 2Go USA, TSN GO, D…

Live

FUT

Sep 18

7:00pm

Spain vs Morocco
Fox Soccer 2Go USA, TSN GO, D…

Live

WEQ

Sep 20

1:00pm

Spain vs Finland
Cuatro

Live

FUT

Sep 21

6:30pm

Spain vs Kazakhstan

*Round of 16

Fox Soccer 2Go USA, TSN GO, D…

Live

FUT

Sep 24

7:00pm

Russia vs Spain

*FIFA Fustal World Cup: Quarter Final 2

Fox Soccer 2Go USA, TSN GO, RDS…
WWC

Sep 30

1:00pm

Jordan vs Spain
Fox Soccer Plus, Fox Soccer…
WWC

Oct 3

9:00am

Spain vs New Zealand
Fox Sports 2 USA, Fox Socc…
WCQ

Oct 6

2:45pm

Italy vs Spain
Fox Sports 1 USA, Fox Socc…
WWC

Oct 7

9:00am

Spain vs Mexico
Fox Sports 2 USA, Fox Socc…
WCQ

Oct 9

2:45pm

Albania vs Spain
Fox Sports 1 USA, Fox Socc…

*All times are shown in your local time
News
Spain's Euro 2016 profile, roster, broadcasters
The Spanish National Team will try to touch the sky for the third time in a row this summer, when they defend their UEFA Euro championship in France. La Roja may not be as shiny as they used to be, but they surely have quality players that could go all the way.
Coach Vicente del Bosque, who is expected to retire when the competition ends, will want to leave the team on a high note, becoming the only National Team to win the tournament three times in a row.
Spain's UEFA Euro history
La Roja is a three-time European championship winner. Their first success came in 1964, when they took advantage of their status as hosts to reach the tournament's final. A 2-1 win would give them their first taste of European glory, but the Spanish crew would have to wait 44 years to repeat that feat. During Euro 2008, a goal by Fernando Torres gave them their second-ever title against runners-up Germany. In 2012, La Roja became the first back-to-back champions in the tournament's history after destroying Mario Balotelli, Andrea Pirlo and the rest of Italy's squad with a 4-0 scoreline.
Spain is tied with Germany as the tournament's most successful sides with three trophies each.
Spain's current form
La Roja enters this tournament with an unbeaten nine-game winning streak which includes friendlies. They concluded the UEFA Euro 2016 Qualifiers as leaders in Group C, despite an unexpected loss against Slovakia. Their most recent defeat happened back in March of 2015, when The Netherlands handed them a 2-0 loss during a friendly. As per FIFA's May rankings, Spain holds the 6th spot in the overall chart. Before UEFA Euro 2016 starts, Spain will play three friendly matches against Bosnia, South Korea and Georgia. Manager Vicente del Bosque will then announce who makes his final 23-man squad.
Vicente del Bosque's profile
The veteran coach has made a name for himself with La Roja, leading his National Team to their first-ever World Cup title. The former Real Madrid boss is known for his calm temper and fatherly approach towards his players, and his team usually privileges possession football. "El Bigotón" won the 2012 FIFA Coach of the Year award, and is expected to step down as the team's manager once the tournament ends. His list of accolades includes two UEFA Champions League trophies with Real Madrid.
UEFA Euro 2016 broadcasters in Spain
Mediaset España acquired the Euro 2016 broadcast rights this year, meaning that live coverage of Spanish national team matches, as well as other games including the final will be aired live on national TV stations Telecinco and Cuatro.

Go to Spain's page for the team's full UEFA Euro 2016 fixtures and global online and TV listings.
Spain's UEFA Euro 2016 roster
Here is the 23-man squad that will make the trip to France:
Croatia vs Spain TV and Streaming Schedule
Australia: beIN Sports Australia, beIN Sports Connect Australia
Canada: TSN3, RDS, TSN1
United States: WATCH ESPN, ESPN Deportes TV, ESPN3 USA, ESPN

Spain vs Turkey TV and Streaming Schedule
Australia: beIN Sports Australia, beIN Sports Connect Australia
Canada: TSN Radio 1040 | 1410 Vancouver, RDS, TSN5, TSN4
Ireland: ITV 1 UK
United Kingdom: ITV 1 UK
United States: ESPN3 USA, ESPN Deportes TV, ESPN, WATCH ESPN

Spain vs Czech Republic TV and Streaming Schedule
Australia: beIN Sports Connect Australia, beIN Sports Australia
Canada: TSN3, TSN Radio 1040 | 1410 Vancouver, TSN4, TSN5, RDS, TSN1
Ireland: ITV 1 UK, BBC Radio 5 Live
United Kingdom: BBC Radio 5 Live, ITV 1 UK
United States: ESPN Deportes TV, ESPN3 USA, WATCH ESPN, ESPN

Videos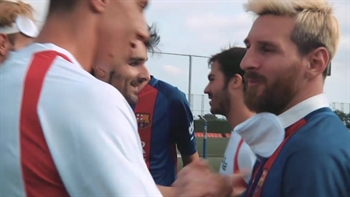 Leo Messi and Barcelona have PK shootout with Spain's P…
Thursday, 15 Sep

Blind Football - Barcelona's Lionel Messi Takes On…
Thursday, 15 Sep

Lopetegui delighted with Spain's 8-0 victory
Tuesday, 13 Sep

Spain vs. Liechtenstein | 2016 European Qualifiers
Monday, 12 Sep
Spain Football Association Info & Statistics
History
Founded: 1913, Affiliated: 1904
Uniform
Jerseys: Red, Shorts:Blue, Stockings:Blue
Website
http://www.rfef.es
World Cup Appearances
14: (1934, 1950, 1962, 1966, 1978, 1982, 1986, 1990, 1994, 1998, 2002, 2006, 2010, 2014)
World Cup Results
First: (2010)
Fourth: (1950)
Continental Titles
First: UEFA EURO (1964, 2008, 2012)
Second: UEFA EURO (1984)
Best Results
First: Olympic Football Tournament Final (1992), FIFA U-20 World Cup Final (1999), FIFA Futsal World Cup Final (2000, 2004), FIFA Club World Cup (2009, 2011)
Second: Olympic Football Tournament Final (1920, 2000), FIFA U-20 World Cup Final (1985, 2003), FIFA U-17 World Cup Final (1991, 2003, 2007), FIFA Futsal World Cup Final (1996, 2008, 2012), FIFA Club World Cup (2006), FIFA Confederations Cup (2013), FIFA Beach Soccer World Cup Final (2013), FIFA U-17 Women's World Cup Final (2014)
Third: FIFA Futsal World Cup Final (1992), FIFA U-17 World Cup Final (1997, 2009), FIFA Confederations Cup (2009), FIFA U-17 Women's World Cup Final (2010)
Fourth: FIFA U-20 World Cup Final (1995), FIFA Club World Cup (2000), FIFA Beach Soccer World Cup Final (2008)